Tesla's (TSLA) stock price closed on Monday at $1,497.06, which now grows by 3.81 percent to $1,554.13, compared with premarket at the moment. Tesla's market value is currently $277.667 billion. Tesla is also increasing market share in China and across the globe.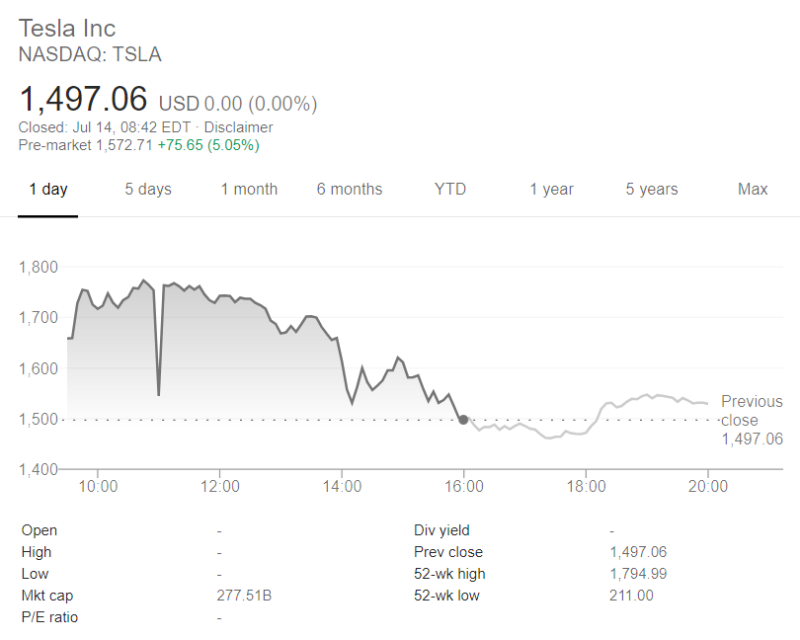 Image source: Google Finance
Certain experts and TSLA critics dispute if Tesla will sustain its confidence when mainstream manufacturers bring their electric cars into the market. Until now, in spite of the current pandemic, Tesla has boosted its market share in the EV market.
Several existing car manufacturers announced the launch of battery-powered electric vehicles before the pandemic. However, COVID-19 may have compelled some OEMs to hold back their BEVs in light the ongoing economic difficulties that most legacy car manufacturers are faced with.
When existing automakers bring their own BEVs to the market, Tesla will already have improved Model Y production and updated Model 3 manufacture — its two most competitive choices right now. And Tesla will continue to operate by 2021 to improve the production of vehicles, another low-cost vehicle.
However, this positive trend didn't hold Tesla's stock back from dropping by more than 10% at the end  Monday's trading session.
Update
Since news about the second factory in China began to circulate in Chinese newspapers, the stock of Tesla (TLSA) soared 7 per cent in pre-market trade this morning.
Tesla Inc., the U.S. automaker, has met with officials from Chongqing City in southwestern China to discuss "speeding up projects," the Liangjiang New Area said on Tuesday.
Now, Tesla is weighing up the decision to build a $1.1 billion United States manufacturing plant that will produce 20,000 jobs and which has promoted shortline competition between locations.