Nio Stocks Are Rising Again, Hitting ATH
Chinese premium electric vehicle maker Nio rose more than 12% during Thursday's trading day. During the aftermarket, shares gained another 1.5%, bringing the total gain in one day to more than 13.5%. The incredible rise in share price began last Monday, since then, in less than 2 weeks, Nio's shares are up almost 60%.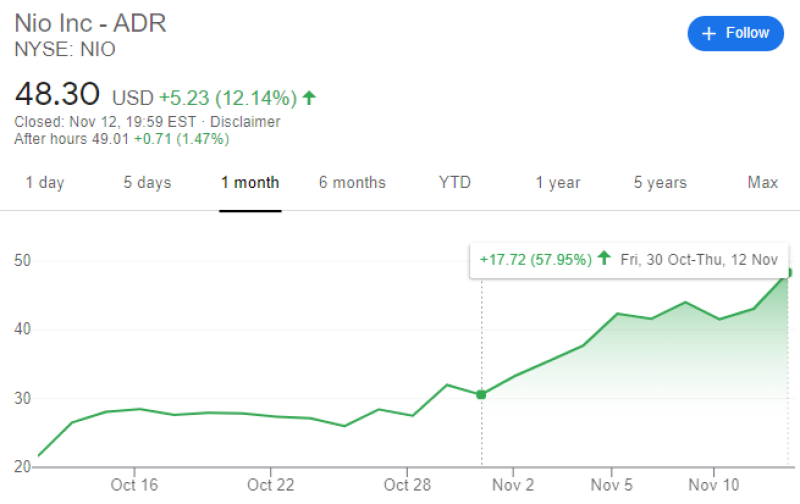 Image Source: Google Finance NIO
The primary trigger for this was the company's October results report. It reported a significant increase in the number of deliveries of electric vehicles in October, which was 100% compared to October last year. Besides, for the first time in its history, the company crossed the threshold of 5,000 delivered electric vehicles per month.
Trader and analyst @psk2329 notes the incredible momentum currently present in Nio stock.
$NIO just a monster today to the upside, crazy momentum in this name @psk2329 via Twitter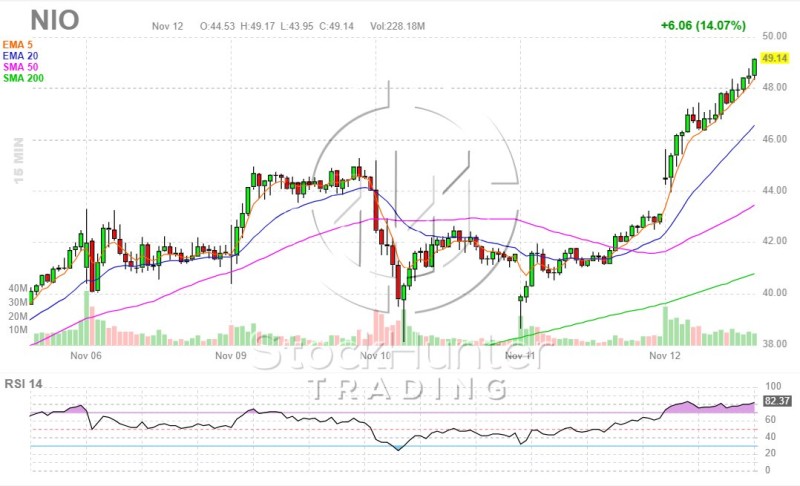 Image Source: Twitter @psk2329
Now, apparently, an additional reason for the growth is the imminent release of the quarterly reports of the company Nio, scheduled for November 17 after the market close. The analyst also links this rapid growth with the imminent publication of the company's quarterly report and believes that its growth will continue at least until then.
has earnings next week, i would expect some profit taking post report. we will see how much. @psk2329 via Twitter
$55 Price Is Possible in Friday
@petertrades, stocks and options trader, believes that the rise in stocks to $ 55 is likely tomorrow, at trading on Friday, unless there is a serious collapse of the entire market. This means an increase of more than 12% relative to the price set at the aftermarket, however, as we have already seen, for Nio it is quite possible, given today.

Image Source: Twitter @petertrades
It is not the first day that the company's shares have been the focus of attention both from retail investors and from large funds. This week, traders recorded a $ 5 million purchase of Nio stock by a major investor. William Li, CEO and founder of the company, is actively preparing to increase demand for the company's products. In October, he announced to the Chinese media that he intended to double the plant's production capacity to 300,000 electric vehicles a year, thereby doubling it by the end of 2021.