Last week, Tesla, Apple and Amazon's shares have became the most popular among users of the electronic broker, Freetrade, based on cash value.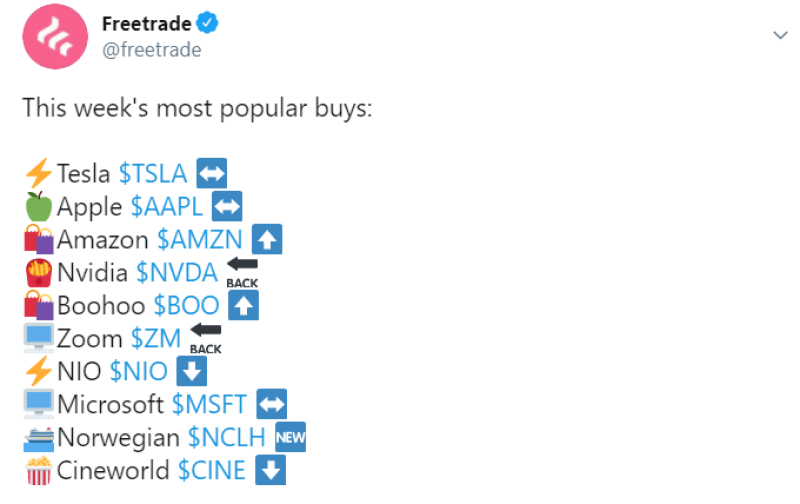 Image Source: Twitter @freetrade
The Most Popular Stocks to Buy Were Apple, Tesla and Amazon
The shares of all three largest companies have been in the spotlight in the previous week. On Monday, it was they who became the only ones who pulled up the entire Nasdaq 100. Thanks to their joint efforts, the tech index rose by 1%, despite the remaining 97%.
Apple and Tesla's shares received an incredible boost on Monday, the first day after each of the companies split their shares. Thanks to this, Tesla's shares rose by more than 10% during the day and Apple's - by 4%. Amazon's shares have also shown solid gains over the past few months. The company has been one of the main beneficiaries of people's forced isolation and closing of the stores.
Apparently, the common reason for the popularity of all three stocks was the buy-the-dip strategy, which is especially popular among electronic broker users. Nevertheless, the pressure exerted on the market by the bears in the middle of last week turned out to be stronger than the bullish plans of app users.
Current Market Situation
At the moment, the shares of all three companies continue to fall, which began in the middle of last week.
The rapid growth has now turned into an equally rapid decline in Tesla's stock prices. They fell by 12% excluding Monday's premarket and more than 25% after the fall caused by Tesla's absence from the S&P 500, despite investors' hopes.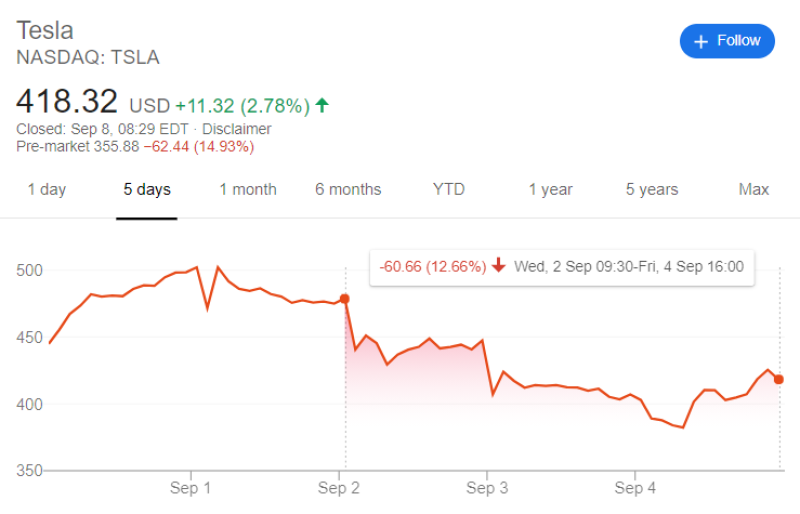 Image Source: Google Finance TSLA
Amazon's  shares are also under pressure, down by 10% after Tuesday's premarket.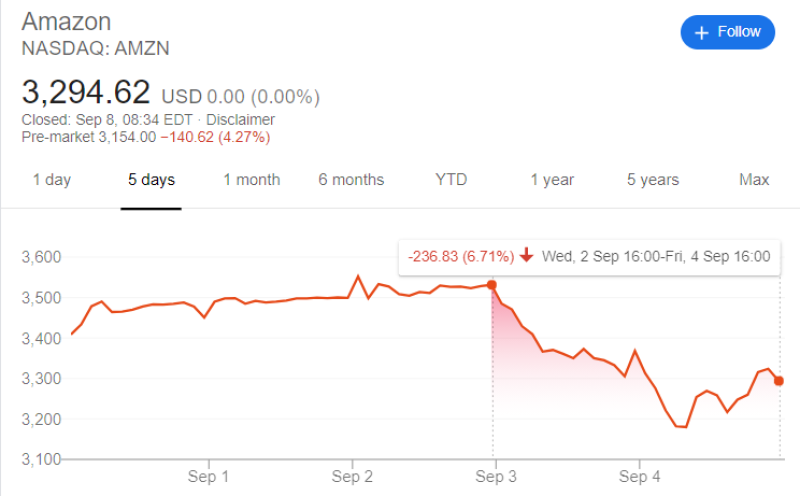 Image Source: Google Finance AMZN
Apple's shares lost more than 17% from Wednesday morning's all-time high.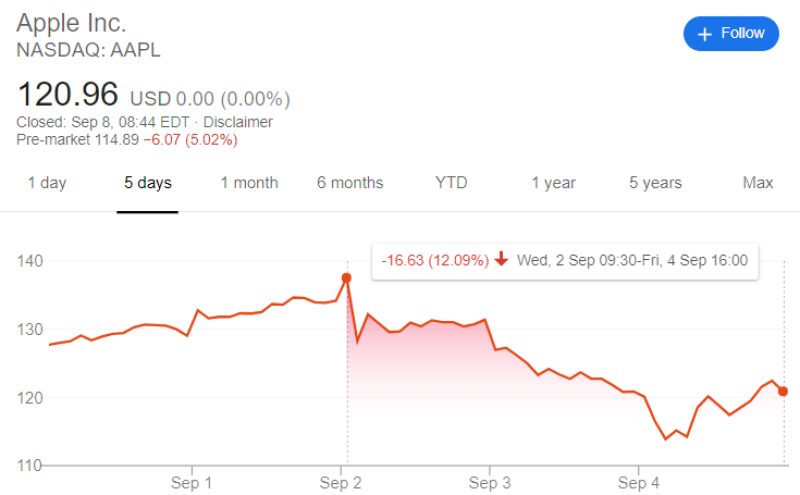 Image Source: Google Finance AAPL
Analysts' Hope for Another Tech Bullish Run Is Still There
Despite the staggering drop in tech stocks, Peter Oppenheimer, a chief global equity strategist at Goldman Sachs Group Inc., believes big tech companies can continue to push the market higher by reviving the bullish trend:
"We think this transformation of the economy and stock markets has further to go. These companies could continue to drive valuations and returns in this bull market." Peter Oppenheimer, Goldman Sachs Group