Lisa Abramowicz, an analyst and an author at Bloomberg, has reported incredible rallies around tech companies' stocks of Apple and Tesla since they both announced stock splits.

Image Source: Twitter @lisaabramowicz1
Although, in theory, the split should not significantly affect the share price (each share is simply split into several shares, and the price is reduced proportionally), examples of two companies demonstrate the opposite effect.
Amazing Growth of Tesla Stocks
Tesla's split was announced on August 11, and since that time, the company's shares have grown continuously throughout the month, which has increased the company's market capitalization by almost 60%.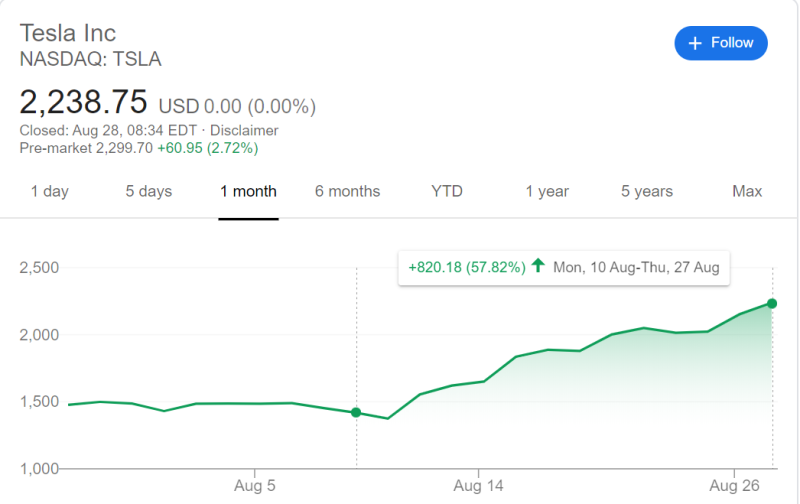 Image Source: Google Finance TSLA
Apple Grows Again Even Before the Split
Apple announced the split on July 30th, after which the company's shares rose by 32%.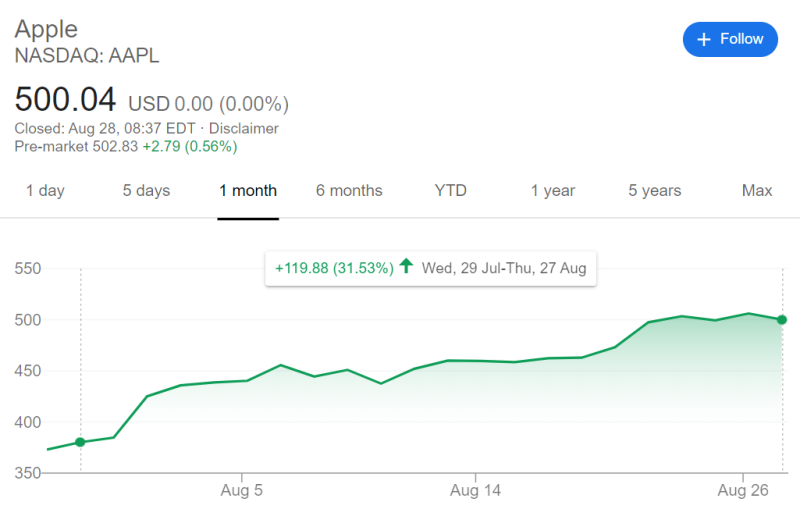 Image Source: Google Finance AAPL
It is worth to note that this is not the first time the company has carried out such an operation. Splits have already been conducted in 1987, 2000, 2005 and 2014.
According to Morgan Stanley's chart, Apple's shares outperformed the index throughout the period since the split was announced and since its implementation in 2014.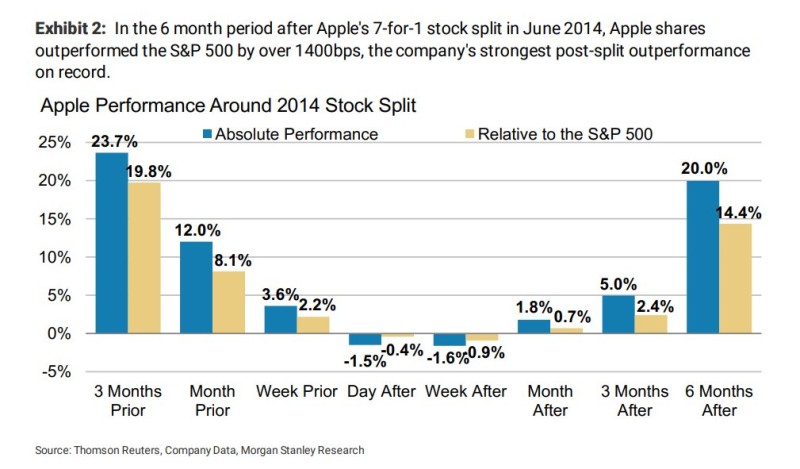 Image Source: Twitter @trader_53
Tesla and Apple Might Revive Stock Split Trend
At the same time, Financial Times says, a split of shares of two of the largest and most popular companies on the market may entail a return to a long-forgotten fashion. In the late 1990s, more than 100 splits of the largest S&P 500 companies were performed annually. By our time, their number has decreased to a few, which have become the widely discussed events.
"It is impossible to tell whether the splits have contributed to the share price spikes. But the action by two stock market favourites has led many other companies to look into the issue and ask whether they should follow suit." Howard Silverblatt, a senior analyst at S&P Dow Jones Indices
The shares of the largest tech companies have already benefited the most from the lockdown. They rose significantly higher than shares of companies with a smaller cap and they are mainly responsible for the growth of the indices. So it shouldn't come as a surprise that they decide to follow the lead of Apple and Tesla and split the shares to attract more private investors.