AMD shares continue their bullish rally. After a month of gains, stocks set all-time highs again during Tuesday's aftermarket session.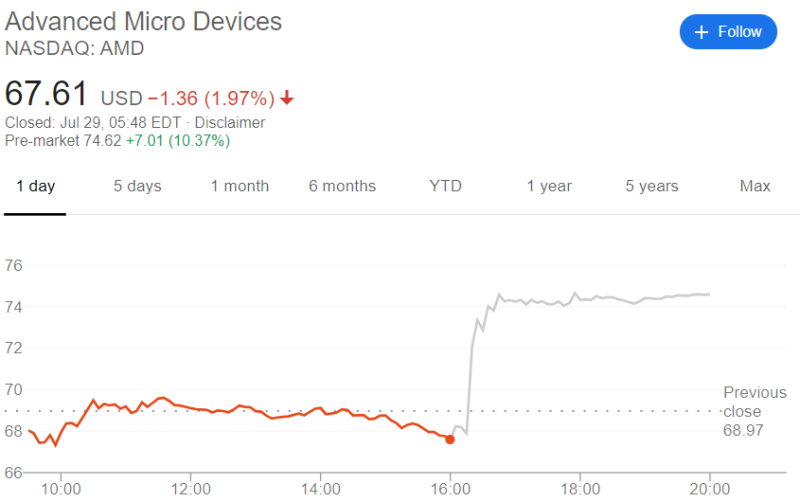 Image Source: Google Finance AMD
As a result of the trades, the shares rose by 10%. Experts associate such a rapid leap with the report, which will be released today.
Eric Jhonsa, a technology columnist at The Street, reports that sales of notebook processors in the second quarter have doubled when compared to the ones of last year. He attributes this to the release of Ryzen 4000, a next-gen chip developed by AMD. What's more, data center sales revenue grew by 20%. This happened due to AMD benefiting from the people's forced isolation and them working remote.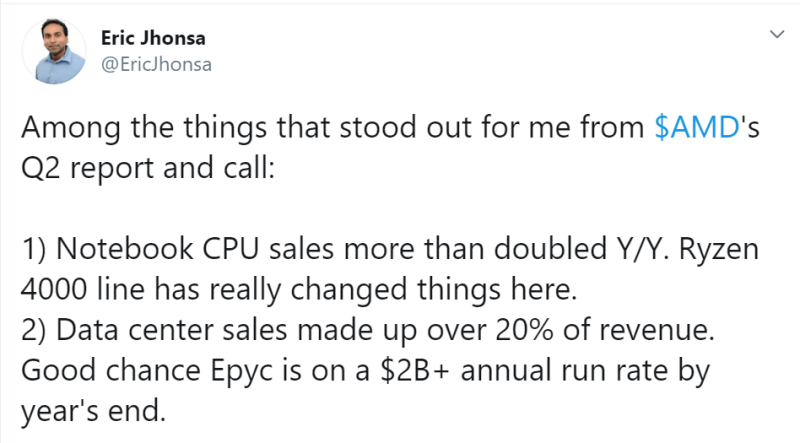 Image Source: Twitter @EricJhonsa
Mr. Jhonsa expresses doubt that the stock will continue to rise since the current price is already high enough. He believes that everything depends on investor's sentiment after the publication of financial statements for the second quarter.

Image Source: Twitter @EricJhonsa
Justin Pulitzer, a professional trader and an analyst, is also not convinced that the growth will continue. He notes that whether AMD will be able to keep the new price level today or not, will become an indicator of further movement of the entire market.

Image Source: Twitter @JustinPulitzer
Earlier, AMD shares have already demonstrated tremendous growth. In the last promotion, companies renewed their all-time high after an 8% jump. Since then, shares have surged another 16% on weak reports from Intel, which said they are delaying the release of next-gen chips, while AMD's chips are already available for sale.