AMD shares broke the record on Friday, having significantly increased in price during the trading session. According to Stocktwits, the world's largest community of investors and traders, the company's shares went up by almost 17%.

Image Source: Twitter @StockTwits
As a result, the company's shares reached a new all-time high at $69.4 
Cheddar Flow, an option order flow tracker, reports that a significant number of call options have been acquired on Friday.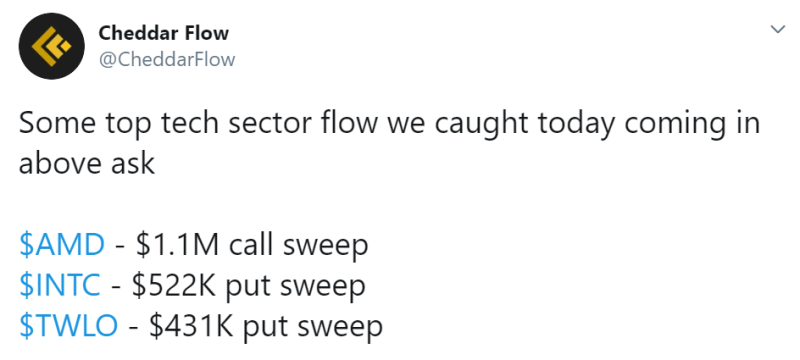 Image Source: Twitter @CheddarFlow
Given the volume of call options, a cautious assumption can be made that AMD rally will continue after the weekend and the stocks will again break the established price record.
What Is the Problem with Intel?
A quarterly report of Intel, a direct competitor of AMD, was released today, also engaged in the development and creation of processors for computers. The Motley Fool reports that the company's earnings were higher than expected. However, investors were caught off guard by Intel's announcement about postponing the launch of its new 7-nanometer chips to six months. AMD has already started selling such chips under the name Ryzen 4000.
An immediate fall of the company's shares, by more than 16%, and a simultaneous rise in AMD's stock quotes at the same rate was the consequence of such decision.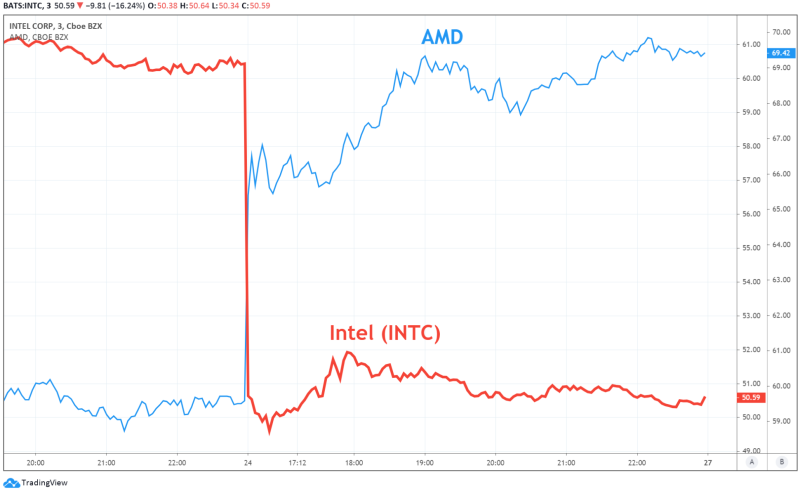 Image Source: TradingView INTC and AMD 
Past AMD Records
Earlier this week, AMD shares were already showing astounding results. Then they rose by 8% in a few hours after having no significant price changes for a few weeks. Then the rise in value was associated with an early report, which will be published next week. Analysts believe the report will be beneficial for the company, which benefited from the forced coronavirus measures and remote work in the second quarter.