U.S. Department of Treasury fined AMZN for providing goods and services to people from countries that USA listed in the sanctions program for various illegal acts such as terrorism and mass destruction weapons.
The Office of Foreign Assets Control (OFAC) claims that Amazon went against the law by allowing retail transactions worth of $269,000. Amazon settled the incident by agreeing to pay a fine of $134,523.
OFAC stated that the potential violations were related to selling products to persons located in Crimea, Iran and Syria, in other words, sanctioned areas or nations, as well as products located in or serving in the diplomatic missions of OFAC countries. These orders were processed by the company between November 2011 and October 2018.
Despite the lawsuit, the company's shares continue to grow. By the end of the trading session on Wednesday, the price rose by 2.70% and closed at $3,081.11, which is its historical high. At the premarket on Thursday, the price is continuing its growth, which is +0.48%.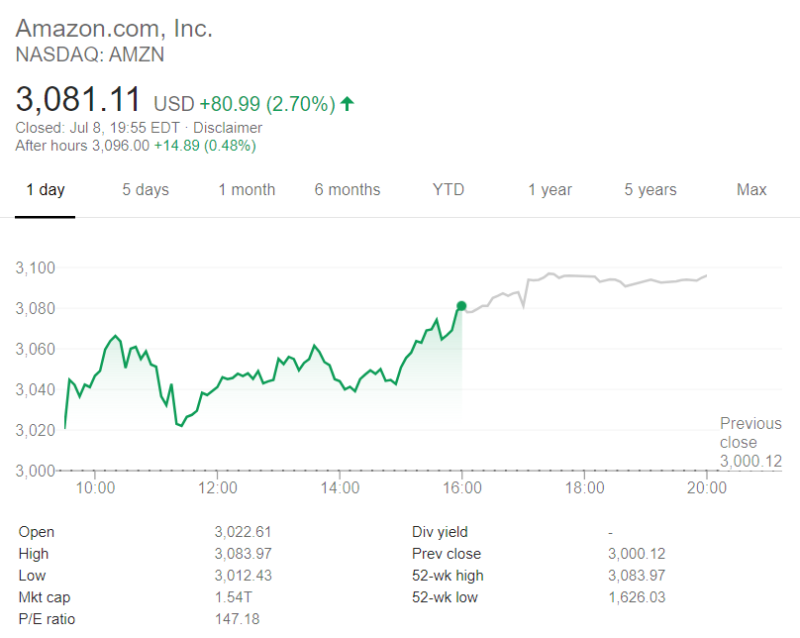 Image source: Google Finance
Let us recall that a few days ago, Amazon shares broke through the psychologically important mark of $3,000. At the same time, Jeff Bezos remains the richest man on the planet.