According to Walter Bloomberg (@DeItaOne), the Amazon stock (AMZN) has surpassed the $3,000 mark. The asset has reached its all-time high.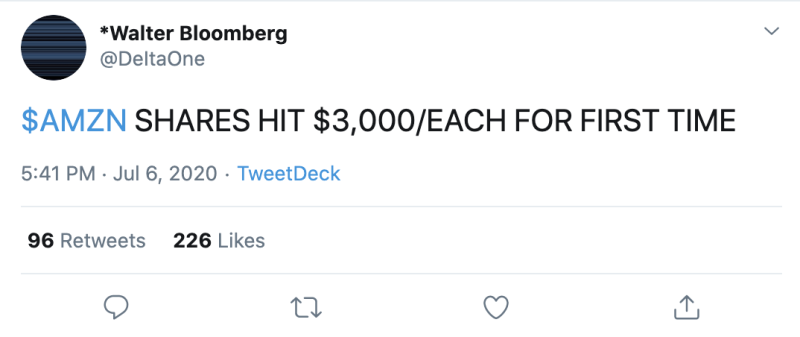 Image source: Twitter @DeItaOne
Earlier, the CEO of Amazon, Jeff Bezos (@JeffBezos) has increased his fortune to $171.6 billion. Even after settling his divorce last year, he was able to beat his previous record.
After Jeff Bezos transferred a fifth of his stake in Amazon to his ex-wife last year, his fortune still set a new record. Mr. Bezos owns an impressive 11% of the total number of shares - they are the basis of his wealth. His income for the still not finished 2020 amounted to $ 56.7 billion.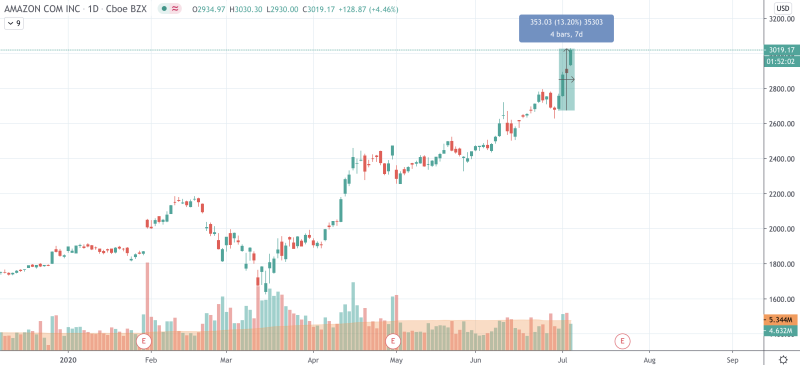 Image source: TradingView AMZN
From the technical point of view, the AMZN share has added 13% over the last 7 days. Even though the asset is trading at its maximum levels, the bullish mood remains relevant. Moreover, the growth is accompanied by the rising trading volume. AMZN is trading at $3,019 at press time.