Yandex Is Going to Buy Tinkoff Bank
Yandex, a Russian multinational corporation specializing in Internet-related products and services, is about to acquire Tinkoff Bank.
According to persistent rumors from sources close to both companies. The deal should be completed by the end of this year. Yandex intends to acquire the entire stake in the bank. Part of the payment will be made, and the rest - in shares of Yandex itself. The information is rumored to be available to the general public in the coming weeks.
Yandex, according to the same insiders, has already given signals in the summer that can be interpreted as preparation for the purchase of Tinkoff Bank. Thus, the corporation raised more than $ 1 billion during the placement of shares. The announced goal of the issue is "to finance further business growth and strategic initiatives, including Internet commerce."
Tinkoff's Problems Are in the Past
In April, shares of Tinkoff Bank suffered after it became known that the United States launched an investigation against Oleg Tinkov, the founder of the bank, and demanded his extradition from London. Tinkov is accused of concealing $ 1 billion in assets and income from the U.S. tax authorities at the time when he renounced his U.S. citizenship in 2013. The citizenship process requires to report the assets.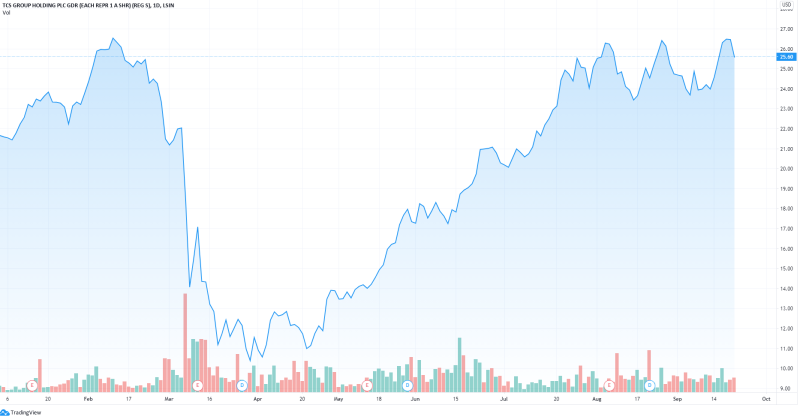 Image Source: TradingView TCS Group PLC
However, at the moment, the Bank's stock has fully recovered from this blow and is now slightly below its historic highs reached at the end of August. Some analysts speculate that a deal of this magnitude will drive up the value of both the tech giant and Tinkoff Bank.