The Tech Analysis Predicts Growth
Venky Srinivasan, a trader and an analyst, conducts the technical analysis of Nio's stock and concludes that it will go up on Monday.
Mr. Srinivasan brings our attention to a clear triangle pattern, the price of the company is close to the upper border of the pattern. Once this resistance line is broken, the stock is expected to rise.
"$NIO Nice flag formation, ready to blast out as early as Monday. Like it ideally over 20.25 if no position. Targets in the chart." Venky Srinivasan via Twitter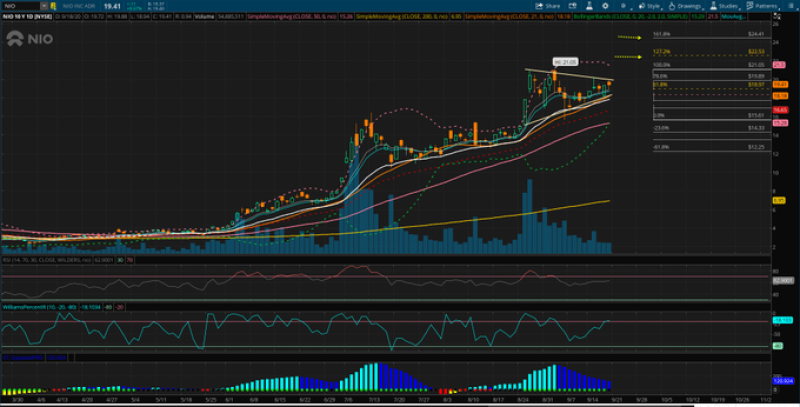 Image Source: Twitter @sssvenky  
According to the trader, the price may rise above $20. Considering the current price, this means an increase of 4-5%.
Other Positive News for Nio 
In addition, investors have been showing more and more interest in the shares of the Chinese EV maker lately.
Earlier this week, it became known that Ray Dalio, the head of the largest hedge fund Bridgewater, has acquired more than 6 million shares of Nio. This happened against the background of the publication of reports for the second quarter, the results of which exceeded the expectations of experts.
In addition, at the end of August, the company announced the launch of a "battery as a service" model that will allow Nio users to rent new batteries in every charging station, thus providing a unique approach to recharge and battery capacity.
Also a few days ago, Scott Redler argued that the company's shares are growing at a rapid pace and, at the same time, they will look even more attractive in the coming weeks compared to all competitors in terms of growth.