NIO, one of China's leading EV players, keeps surprising investors, as its shares are experiencing an almost never-ending path upward. As an example, the current stock is less than $1 from its latest all-time high, reported on August 26. The stock during an early morning trade rose by 0,5% as far as the intra-day market measures are concerned.
Positive Forecasts for NIO
A financial strategist Scott Redler also keeps a close eye on NIO shares. He believes that the company's shares are in a strong uptrend, and they look very confident.
This $nio continues to rebuild and looks better than most names in the weeks ahead.   Scott Redler @RedDogT3 via Twitter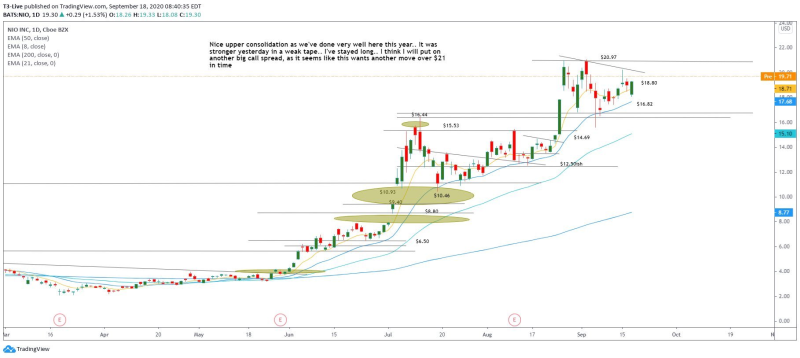 Image source: Twitter @RedDogT3
There seem to be several factors that push the stock up. The first thing to say was that when NIO revealed its deliveries for the month of August, its production potential is projected to hit a high delivery number for September for the first time ever.
The Precursors for Growth of the Stock
Finally, the organization will benefit from the rising omnipresence of China's battery swap model. For reference, a "Body-to-Battery Separation" model for New Energy Vehicles (NEVs) Declaration has been signed by 20 Chinese firms and organizations.
NIO officially released its Battery as a Subscription Model (BaaS) in Shanghai on August 20, apart from the increasing significance of the Chinese battery swap concept. Using this program, RMB70,000 ($10,116) is eligible for saving on the purchases of the models ES8, ES6, and EC6 if a customer wishes to reserve the 70KWh battery entry package for their EV.