Robinhood's external data tracker Robintrack published information about users' portfolios in free charts. This service allows to analyze Robinhood users' portfolio. The rating includes the top ETFs selected by users of the Robinhood trading app.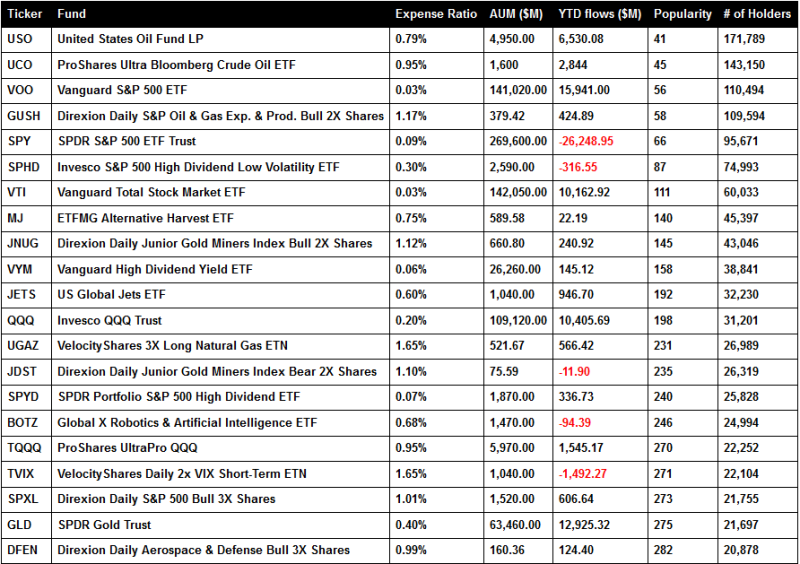 Top 20 Most Popular Robinhood User's ETFs
Which ETFs are currently held by investors? Most often, the answer to this question is ambiguous and inaccurate. It is very difficult to reveal what ETFs investors hold. Robinhood trading app resolves this issue and provides accurate data on the ETFs investors hold in their portfolios.
Robinhood is a free trading platform. It allows users to trade stocks, ETFs, options, and even cryptocurrencies. More than 13 million users are registered on the platform. Most of them are individual investors.
The list of the top 20 most popular ETFs includes:
USO United States Oil Fund LP
UCO ProShares Ultra Bloomberg Crude Oil ETF
VOO Vanguard S&P 500 ETF
GUSH Direxion Daily S&P Oil & Gas Exp. & Prod. Bull 2X Shares
SPY SPDR S&P 500 ETF Trust
SPHD Invesco S&P 500 High Dividend Low Volatility ETF 
VTI Vanguard Total Stock Market ETF
MJ ETFMG Alternative Harvest ETF
JNUG Direxion Daily Junior Gold Miners Index Bull 2X Shares
VYM Vanguard High Dividend Yield ETF
JETS US Global Jets ETF 
QQQ Invesco QQQ Trust
UGAZ VelocityShares 3X Long Natural Gas ETN 
JDST Direxion Daily Junior Gold Miners Index Bear 2X Shares
SPYD SPDR Portfolio S&P 500 High Dividend ETF 
BOTZ Global X Robotics & Artificial Intelligence ETF 
TQQQ ProShares UltraPro QQQ 
TVIX VelocityShares Daily 2x VIX Short-Term ETN
SPXL Direxion Daily S&P 500 Bull 3X Shares
GLD SPDR Gold Trust
DFEN Direxion Daily Aerospace & Defense Bull 3X Shares
The most popular ETF on the platform is the United States Oil Fund LP (USO). It has more than 171,000 investors. Roobinhood users are quite selective in their portfolio design.
Before that, oil ETFs were one of the most popular choices in investing. Investors are hoping for a rebound after the pandemic. This explains the popularity of commodity ETFs.I
Investors choose ETFs for gold, SPDR Gold Trust (GLD) for the same reason. During the pandemic, gold became a "lifeline" for many users of the app.
In the context of the pandemic, app users also added US Global JETS ETFs (JETS) to their portfolios in hopes of a rebound.
The sphereы of cannabis and artificial intelligence remain popular among Robinhood users.