The Worst Month Ever for the Big Tech
Michael A. Gayed, a portfolio risk manager and a market analyst, reports that the stocks of the 5 largest companies on the US market are close to the worst decline in history.
Wall Street's biggest 5 stocks, by value, are on track for their worst monthly decline ever in history. $FB $AAPL $MSFT $AMZN $GOOGL #Wall #Street #decline #BigTech #performance #stocks #markets #economy #investing #financialservices Michael A. Gayed via Twitter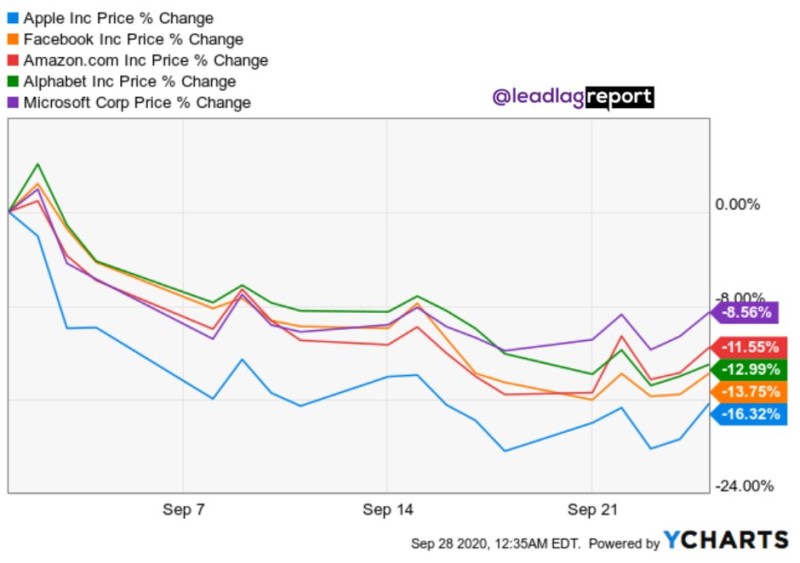 Image Source: @leadlagreport
According to his observations, Amazon, Alphabet, Google, Apple, Facebook, and Microsoft lost from 8.5% to 16.3% of their market capitalization in just one month. This is the largest concurrent fall of the 5 largest stocks in history (although, it should be noted that the stocks individually have already had much larger falls, which happened 20 years ago during the dotcom bubble burst).
Rise and Fall of S&P 500
Even though tech stocks topped the S&P 500 during the summer bull rally, they also spearheaded the decline during the sharp correction of US markets in early September.
Despite the continued growth of markets in the second half of September, it turned out to be rather volatile and on Friday changed to a fall after the news was published that the President Trump and the first lady of the United States tested positive for COVID.
The overwhelming majority of investors do not believe that the bullish trend will last long in the S&P 500. According to the AAII survey, more than 73% of investors believe that within 6 months the S&P 500 will remain neutral and decline.