The Market Is Still Bearish Based on Equal Weighted S&P 500
Andrew Thrasher, a portfolio manager for the Financial Enhancement Group and the founder of Thrasher Analytics, notes that the S&P has already overcome the gap caused by the fall in early September and is now trading above the pre-September lows.
"One of the charts I'm watching, Equal Weight S&P 500 and FAAMG both unable to recover the prior Sept. lows.  A move back above here would be a good first step in buyers taking back control, hasn't happened yet." Andrew Thrasher via Twitter
However, the equal weighted S&P 500 index and equal weighted FAAMG still failed to recover to August levels, the past correction proved to be too significant of an obstacle.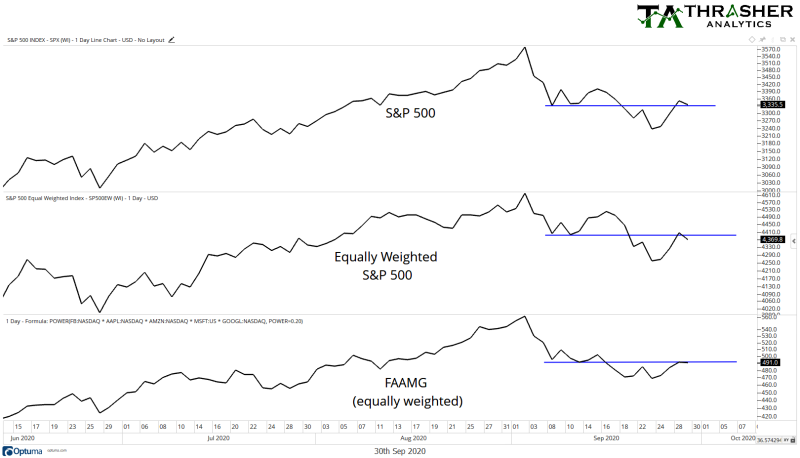 Image Source: Twitter @AndrewThrasher
Mr. Thrasher believes that this is a signal that the bulls have not yet been able to re-seize power over the market, and further growth may be difficult.
Equal Weighted SPX Is Still Lagging
It has already become known that the equal weighted S&P 500 is still lagging after the correction while the usual capital-weighted S&P 500 has already overcome it.
This demonstrates the emergence of an imbalance: until September, large technology companies overperformed the market, while now they are still stalled, unable to finally recover from a sharp correction.
S&P 500 Correction Might Be Not Over Yet
In addition, Michael A. Gayed, an analyst and a portfolio risk manager, noted that so far the S&P 500 has not dipped below its 200-day moving average, although the index has done so during its remaining corrections since 2009. If the long-term trend repeats itself, the market should expect another decline.