The US dollar index, which tests the greenback against other reserve currencies, is offsetting losses before markets open in Europe on Tuesday.
The Review of Current Index 
After a negative price adjustment and a dismissal from the 94.70, the index trades at the beginning of the week without a clear path of 94.00 on Tuesday. There is a six-month resistance line in this sector that keeps restricting the upward trajectory.
However, this small recovery does not show a change in the downward trend. The expert called this recovery a "dead cat bounce." However, he believes that the fall will continue.
 Expected a dead cat bounce, we got one $DXY backtesting 11Y breakdown on the daily failed to close above critical 94.40 very weak corrective bounce last 2 monthsfunny how sentiment always goes from one extreme to anotherdrink less and keep your head clear, down we go   Gold Ventures @TheLastDegree via Twitter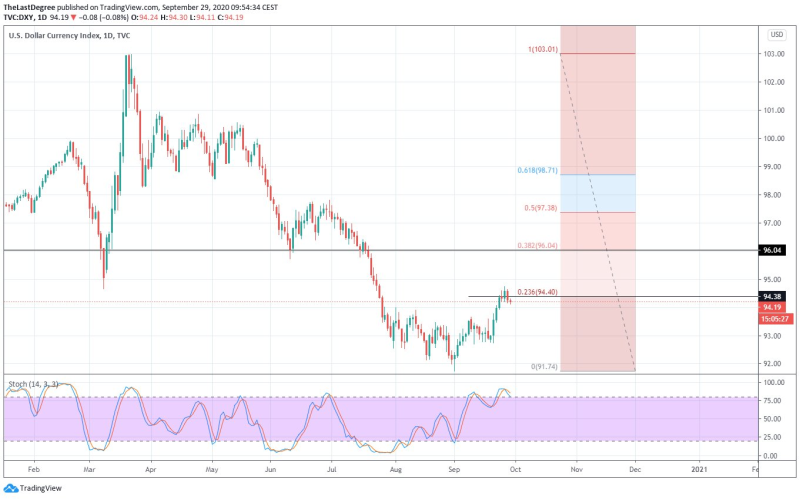 Image source: Twitter @TheLastDegree
Pressure On The US Dollar
When President Trump and democratic challenger Joe Biden attend the first presidential debate in Cleveland, the U.S. political situation will take central stage. The pandemic and economic prospects should be a high priority.
In the US, the S&P / Case-Shiller index and speeches by the New York FED's John Williams and Philadelphia FED's Patrick Harker should endorse the advanced findings of trade balances.
However, the opinion about the continuing decline and possible recovery differs from the opinion of another analyst. Read the analysis of the situation on the Dollar index here.