The Complexity of the Scaling Network
Ethereum's co-founder, Vitalik Buterin, acknowledged that he does not anticipate a fast solution to the issue of scalability of the main network of the second-largest cryptocurrency. He explained his stance on this topic in a roadmap based on Rollups technologies.
According to him, Ethereum's scalability is "years away" at the simple level, and thus the best approach is to concentrate on second-level implementation that minimizes network loads and improves transaction speed. These protocols can be integrated into wallets, "not in Web sites such as dApps."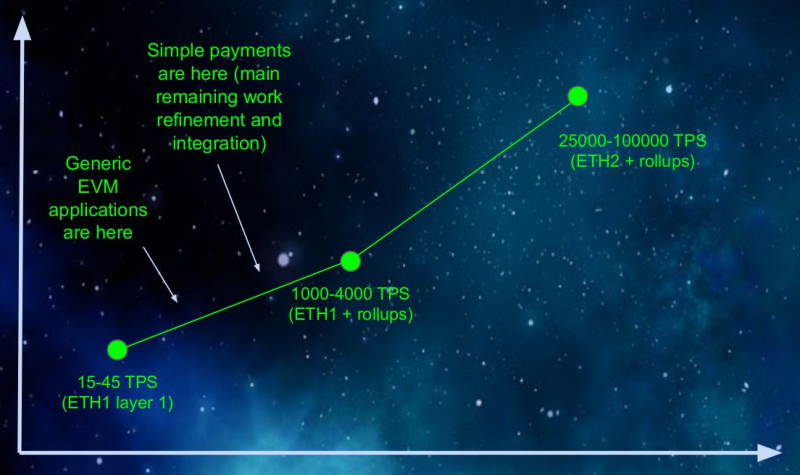 Image source: Twitter @VitalikButerin
Level 2 Solution
Vitalik is convinced that there is no way to overcome second-tier solutions which would lead to scalability in the short or medium term. Layer-1 (L1) is "nearly useless for any application and there is no non-L2 direction which can take us into short- to medium-term scalability."
The current output of Ethereum was measured at about 15 TPS. The network can potentially manage 100,000 TPS with the successful introduction of Rollups and the transition to ETH 2.0.
1. Ultra-high scaling with sharding + rollups will be possible *in phase 1*2. Sharding is NOT "cancelled"3. Get on a rollup asap; you get 100x scaling even without eth2 Vitalik Buterin @VitalikButerin via Twitter
Buterin states that this could also require a realignment of Ethereum 2.0 's existence in the long run. The base layer (L1) should concentrate on permission, data availability and protection within this context, while scaling is completely enforced by L2, consequently.
Optimistic roll-ups (ORs) are one form of layer 2 building not running on the base layer of Ethereum, but above it. This allows intelligent contracts to be executed while Ethereum is still safe.