The price of Bitcoin after the rally to $12,000 adjusted to $11,000, but remains in a bullish trend. The price is consolidating below the $12,000 level, with sellers continuing putting their pressure. This was noted in a tweet by a chief analyst of Chainalysis, Philip Gradwell.
Bitcoin price is facing pressure as holders take profits, sending more bitcoin at a 25%+ USD gain than since the 2017 bull market.  Philip Gradwell, @philip_gradwell, via Twitter
At the same time, according to Mr. Gradwell, the number of transactions with Bitcoin has recently increased, and the price continues to fall. Transaction fees, however, are lower than they were in 2017.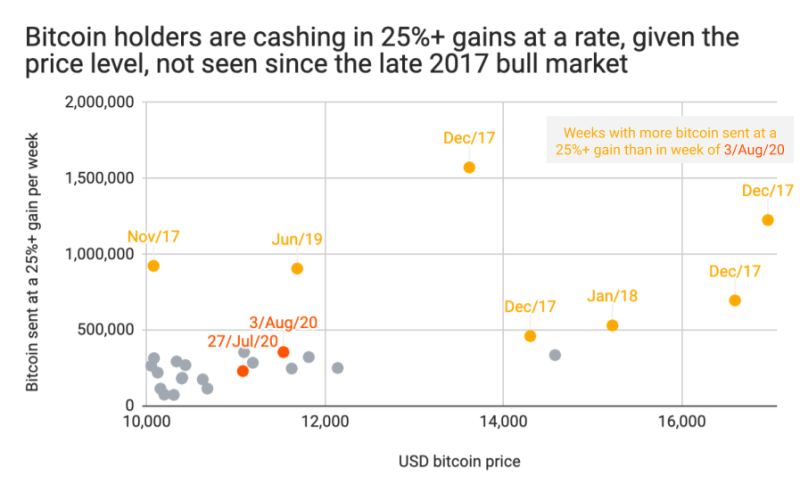 Image source: Twitter @philip_gradwell
Another asset manager found four reasons to sell Bitcoin. Among them, he highlighted the payment of taxes, the need for liquidity, risk management in the portfolio or the need for money. In other cases, he does not believe that it is necessary to sell Bitcoin, because it is necessary to increase its quantity.
My opinion:  4 reasons to sell #bitcoin1) income requirements2) liquidity needs3) taxes4) portfolio risk managementOtherwise, wealth-maximizing investors should not sell. Timothy Peterson (@nsquaredcrypto) via Twitter
Let us recall that recently the financial organization MicroStrategy began to use Bitcoin as their main reserve asset. At the same time, the company's shares rose by more than 9%.