Since the beginning, Bitcoin has been called a 'digital gold' due to being resistant, interchangeable, divisible, and rare, like a precious metal.
Bitcoin seems to have built a reputation to be considered a safe asset in times of crisis, in contrast to the dollar. As dollar depreciates not only against metals, but also against other fiat currencies.
In fact, in recent months, the cryptocurrency has become less correlated with the S&P 500, the Wall Street stock index, and the benchmark for global stock markets. The lower the correlation is, the more attraction Bitcoin becomes. Mati Greenspan, a trader and an investor, noticed such trend on Twitter.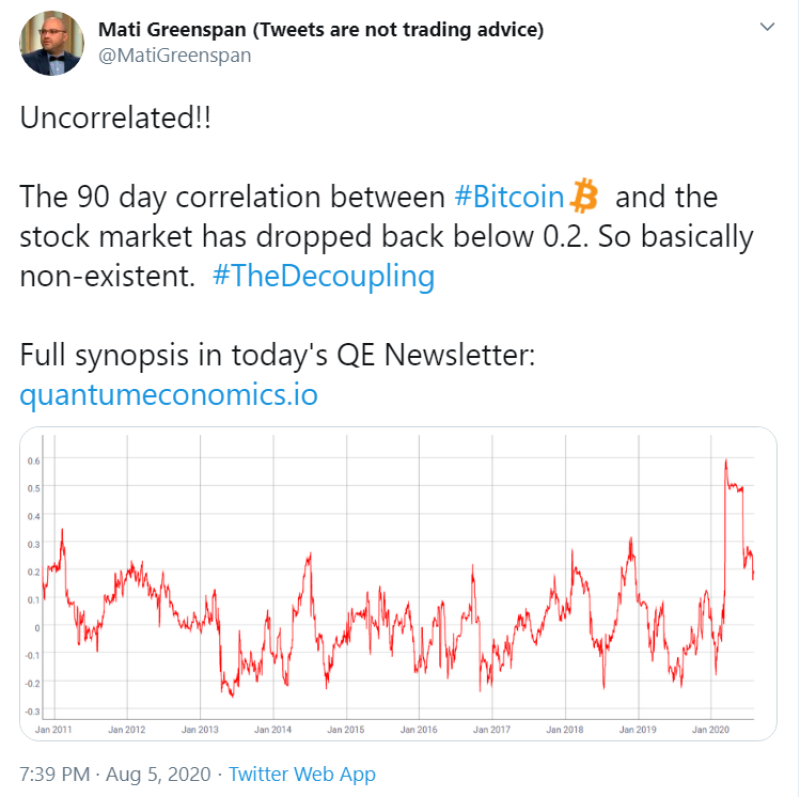 Image source: Twitter @MatiGreenspan
Bitcoin has been acting, more or less, like a risky asset this year. The price of the cryptocurrency fell from $10,000 to $3,867 in the beginning of March, as global stocks fell due to fears of the coronavirus. Then it rose again to $10,000 and is now trading around $12,000.
At the same time, the S&P 500 showed the fastest recovery of a bear market in history. However, Bitcoin, along with gold, which stepped over the $2,000 mark against the backdrop of a depreciating dollar, continues its growth, and other cryptocurrencies are led by its example.