If the most popular stocks of the past week among Robinhood traders were Tesla (TSLA), Amazon (AMZN), Apple (AAPL) and other technological companies, this week, the situation has changed to a some extent. Against the ongoing vaccine testing, pharmacological companies have become the leaders in terms of growth.
Pfizer
Pfizer (PFE) remains takes the lead in the race to develop the coronavirus vaccine. Many European countries have already started negotiating with the company for multibillion-dollar supplies of the future drug, and the US government is already providing billions of dollars for its development.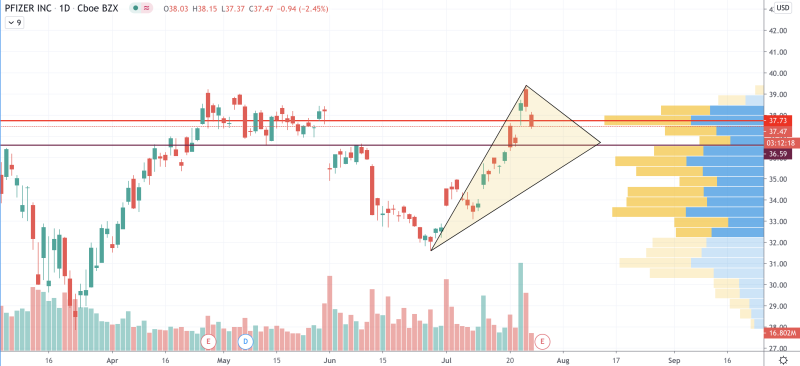 Image source: TradingView PFE
Analyzing the technical picture of PFE, the stock has started the correction phase after peaking at $39.42. The selling volume is still high, which means that the decline may continue. As the nearest stop traders may expect a 'mirror' level at $36.59. If bears keep pushing the stock deeper, there might be a formation of the Triangle figure. In this regard, the aforementioned level is supposed to be attained by mid-August of 2020.
PFE is trading at $37.41 at press time.
AstraZeneca
AstraZeneca (AZN) is another pharmacological company that is working on creating a coronavirus vaccine. Against this news, the price of the stock has risen by 22% over the last 4 days.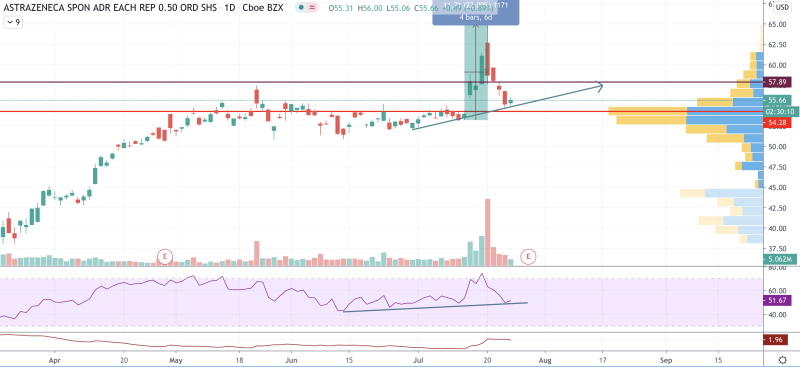 Image source: TradingView AZN
From the technical perspective, AZN is looking more bullish than PFE as the stock might have found the local support level. The trading volume has reduced and sellers have run out of 'fuel' to keep pushing the share down. Also, the stock has come back to the level of the highest liquidity. Last but not least, it refers to the bullish divergence on the RSI indicator. All in all, there are high chances for a bounce off with a target of $57.89.
AZN is trading at $55.61 at press time.
iBio
iBio is the third business which stock is among the most popular ones at Robinhood app. The share just rocketed by more than 200% over the past 4 days.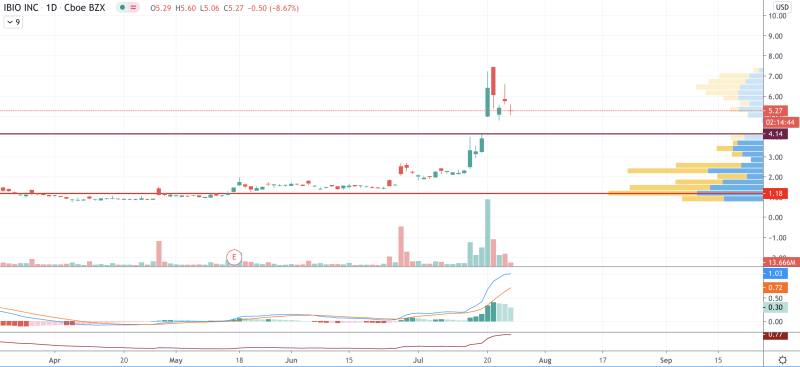 Image source: TradingView IBIO
The IBIO is highly overbought as the trading has sharply gone down after the share could not fix above the $7 mark. In addition, the MACD indicator is about to enter the bearish area soon. Thus, there is no liquidity at the current zone which confirms the ongoing bears' pressure. As the first vital support where bears may find buyers' resistance is $4.14. In case the level is broken, decline may continue up to $2 per share. Such a scenario is relevant until the end of summer 2020.
IBIO is trading at $5.30 at press time.