Tesla's Stock Jumps on Positive Report
Tesla, the largest electric vehicle company by market capitalization, rose by 3.2% at the aftermarket upon the company's financials exceeding analysts' expectations. This is the fifth continuous growth in the company's quarterly financial results.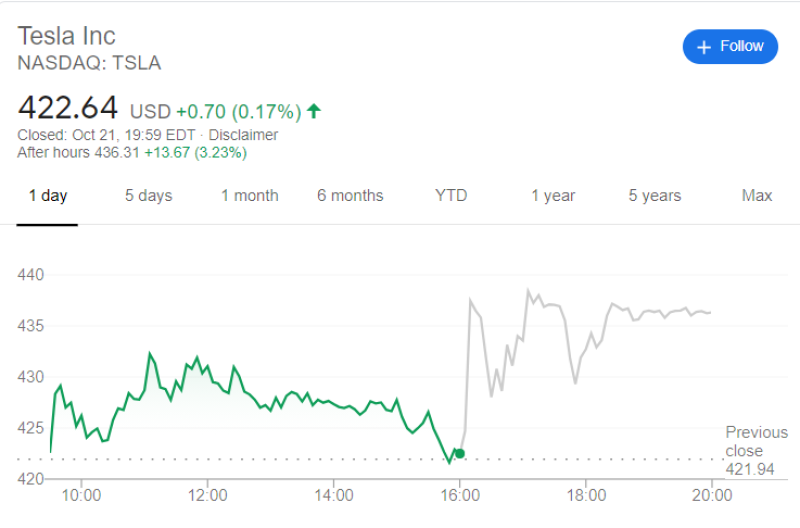 Google Finance TSLA
In the third quarter, the company's revenue grew by more than 40%, from $6 billion to $8.77 billion. Besides, profits more than doubled, from $104 million to $331 million.
Ross Gerber, an analyst and the CEO of Gerber Kawasaki investment fund, believes the company's third-quarter of 2020 report is the best in Tesla's history.

Image Source: Twitter @GerberKawasaki
Tesla's Future Growth
 Elon Musk is not going to stop there. He recalled the goal of delivering 500,000 Tesla electric vehicles in 2020. However, the company, according to Reuters, noted that the plan has become more difficult to implement.
"Achieving this target depends primarily on a quarter over quarter increases in Model Y and Shanghai production"  The company's representatives during a conference call.
Mr. Gerber notes that the production capacity of Tesla's factory in Shanghai has almost doubled, which will let the company to significantly increase its total capacity over the next 12 months.

Image Source: Twitter @GerberKawasaki
In the third quarter, Tesla was able to deliver 139,000 electric vehicles, a significant increase compared to the second quarter when the company delivered just over 90,000 vehicles. However, to fulfill the announced plan, the company will indeed have to speed the things up in the fourth quarter, delivering about 170,000 cars, 17% more than in Q3.