According to CNBC, traders who opened short positions trading Tesla (TSLA) have lost $18 Bln since the beginning of 2020.
A short position is a way to earn on falling stocks. If an investor believes that the company's securities are unreasonably expensive and will soon become cheaper, he can borrow shares from a broker and immediately sell them. Then he waits for the quotes to fall, after which he buys back the paper, but it is already much cheaper. And he returns the shares received in debt to the broker, earning on the price difference.
In case of short positions, an undesirable situation for the investor, which is called a short squeeze, may arise. This is a situation where the investor must return the shares to the broker, but their value has still not fallen. Thus, closing a short position will inevitably result in a loss.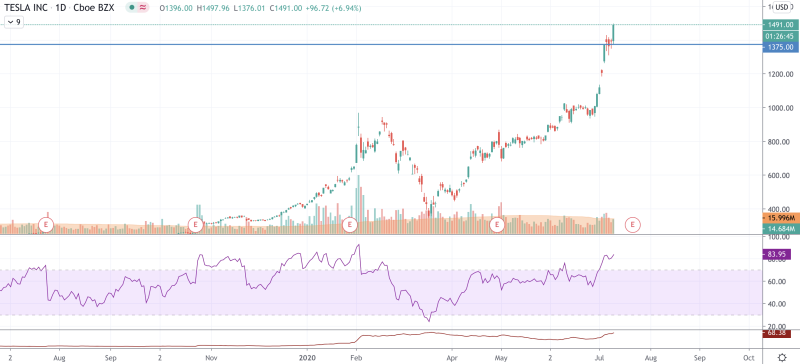 Image source: TradingView TSLA
Analyzing the daily time frame, the TSLA shares keep rising, setting new all-time-highs. However, the asset is already overbought based on the Relative Strength Index. In this case, the rise is likely to slow down. The correction might push TSLA back a level closer to $1,375. At the moment, the stock is trading at $1,491 per share.