Tesla's Options Ratio Is Extremely Low
Tesla's put/call options ratio fell to record lows not seen on the market since 2013, according to the information provided by Sarah Ponczek, a reporter at Bloomberg and a market analyst.
She recalls that this fall occurred despite the company's shares rising by 440% since the beginning of the year, significantly outperforming both the main indices and the increase in the prices of shares of other technology companies.
"$TSLA put/call ratio yesterday fell to the lowest since 2013. Still plenty of bullish activity and the stock's up 440% this year." Sarah Ponczek via Twitter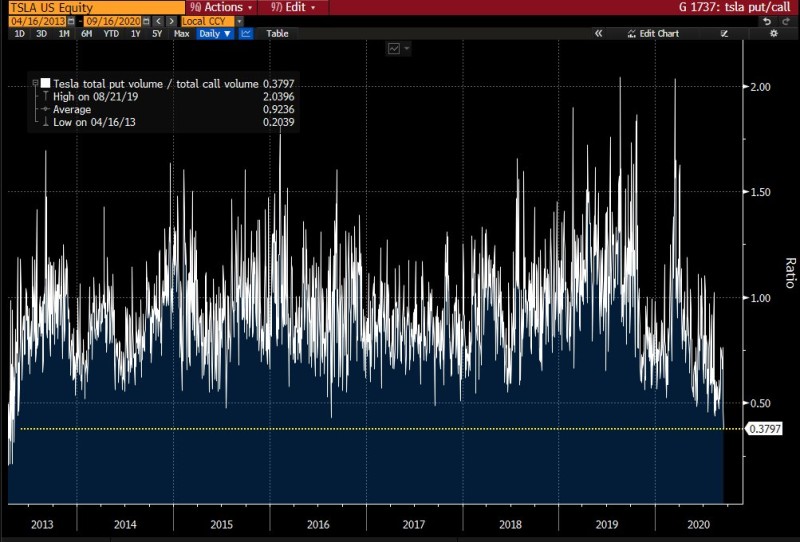 Image Source: Twitter @SarahPonczek
What Is Put/Call Ratio?
The Put/Call Ratio is a simple and straightforward indicator for tracking market sentiment for a stock. If the ratio rises, it means that investors are buying more put options, expecting a decline in price. This is a signal for a possible bearish trend. If, on the contrary, the ratio falls, it is a signal of a bullish trend, as investors believe the price will continue to rise.
Judging by the chart, there are very few investors left on the market who are confident in the imminent fall of Tesla's shares. Apparently, all the accumulated bearish charge was used up within the last few weeks, when Tesla lost 33% of its value in record time after a rapid rally, fueled by a stock split.
Now Tesla is growing rapidly again, every day returning part of the loss in the price correction.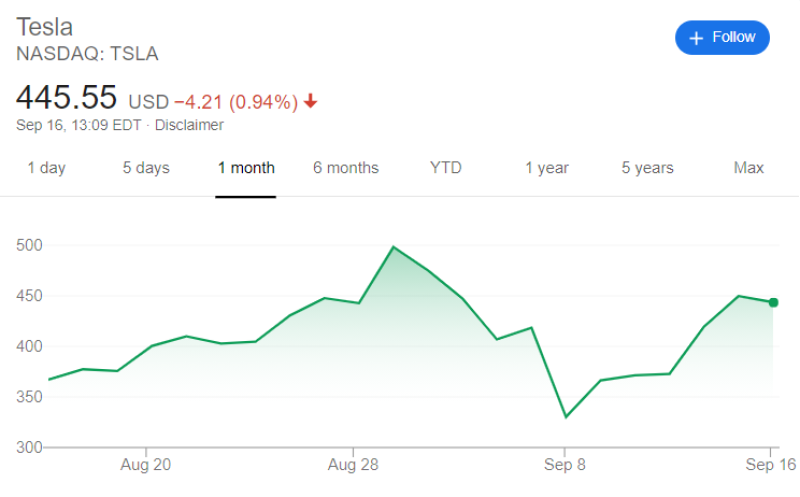 Image Source: Google Finance TSLA
Nevertheless, some analysts state that the record growth in call options is one of the signs of an imminent market correction, as retail investors play the main role in this, increasing  by their actions volatility on the market.