Nikola's Amazing Growth
Nikola's shares are growing rapidly for the second day in a row. According to Market Screener, Nikola's corp chief executive, Mark Russell, assures that the company will certify the deal with the energy partner, as well as protect its technologies.
Thanks to this announcement, at the moment the shares has risen by more than 21%, then slightly declined. The final growth is still impressive and amounts to over 17.5% in one trading day.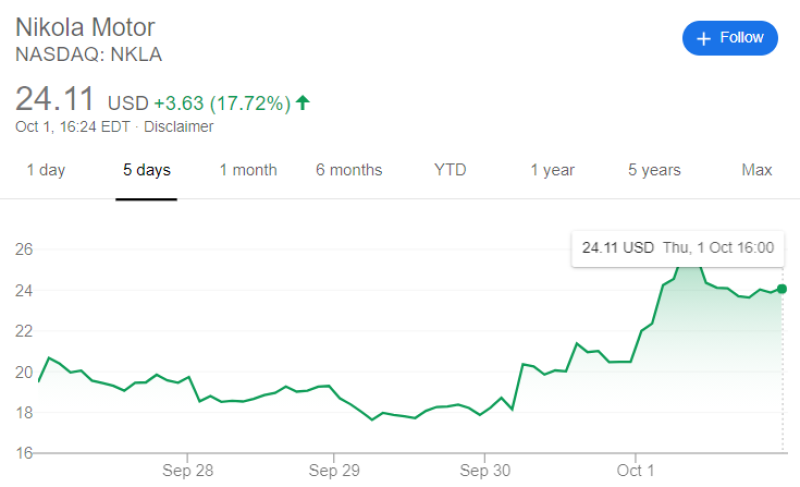 Image Source: Google Finance NKLA
This Growth Is the Most Bullish Thing for the Long Time
Nathan Michaud, a famous trader and an analyst, suggests that this explosive growth is the last success of the company and it was very short-lived. In the coming weeks, the stock will see a slow decline. He also thinks that the rise was driven by a short squeeze, so it won't last long.

Image Source: Twitter @InvestorsLive
However, despite an impressive spurt, the stock is still more than 50% cheaper than its less than a month's all-time highs. Such incredible price volatility is also indicative of trend volatility.
The Worst Month for Nikola Corp
The company was previously embroiled in a scandal when an analytical agency released a report alleging multiple fraud charges claiming that "Trevor [Milton] has managed to parlay these false statements made over the course of a decade into a ~ $ 20 billion public company."
Mr. Milton was unable to respond to this accusation that could satisfy investors, so the stock fell by more than 10% in one day.
However, as it turned out, this was only the beginning, because later Trevor Milton resigned from the position of the executive chairman, which caused another decline in stock price that totalled 25%.