Friday's Dark Pool Activities Include Facebook and Netflix's Big Deals
There were a few big deals in the Dark Pool on Friday, which were noted by @MelStone31, an expert who monitors dark pool activity & unusual options flow. The dark pool is an over-the-counter method of trading securities, in which the parties completing a transaction are not disclosed, and its volume itself is not disclosed until the very moment of the transaction.
The first deal was connected with the shares of Facebook, the deal affected 1 million shares of the company, which is worth $283.30 per share. Thus, the total amount of the transaction amounted to more than $283 million.
$FB - 1 million share #darkpool print at $283.30   @MelStone31 via Twitter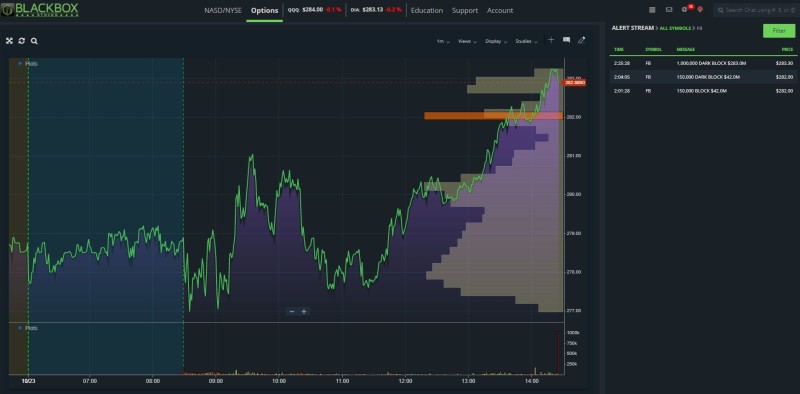 Image Source: Twitter @MelStone31
Facebook's shares are up more than 7% over the week prior to the report, which will be released on October 29th. Analysts suggest that the report will be successful, attributing this to the boom in the digital ad sector, as the coronavirus has led to the fact that people spend more time in the virtual space, and not in the real one, and advertisers are adapting to this, from which Facebook, being one of the largest platforms for advertising, directly benefits.
It should be noted that since these transactions occurred through the Dark Pool, it is impossible to say whether they are transactions of buying or selling securities, only the volume of the transaction is known. Thus, it is impossible to make an accurate conclusion about how a deal that involved so many shares will affect the market, and what it is an indicator of.
The second unusual deal is a deal with the shares of Netflix, the largest streaming service in the world. About 500 thousand shares of the company were bought or sold through Dark Pool at $487.47 per share. Thus, the amount of the transaction with Netflix's shares amounted to more than $243 million.
$NFLX - SIZE!!! 500k share #darkool print at 487.47 @MelStone31 via Twitter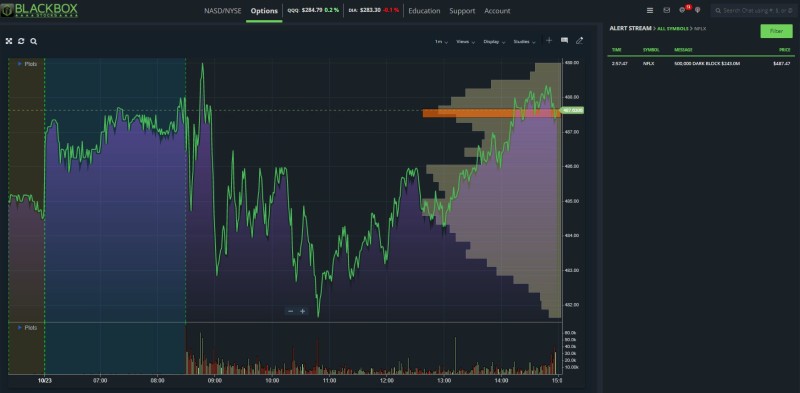 Image Source: Twitter @MelStone31
The company's stock was not doing well this week. Contrary to the expectations of the experts, Netflix failed to follow its guidance. The growth of number of subscribers was disappointingly low in Q3 of 2020, so investors reacted extremely negatively to the report. As a result, the stock dropped by 7% in one trading session.