Facebook stocks grow by more than 6% during the trading session today. According to Ophir Gottlieb, a CEO of Capital Market Laboratories, such a leap is primarily due to the launch of the new Instagram's Reels.

Image Source: Twitter @OphirGottlieb
This service was launched in the U.S. yesterday. It is supposed to be a direct competitor of TikTok, as it aims to create short 15-second videos for which TikTok is known for. At the same time, the new service is built into the existing architecture of Instagram. It is worth to mention that this is Facebook's second attempt to compete with TikTok. The first was Lasso in November 2018, but it failed to gain required attention.
Perhaps the increased interest in Reels is due to the fact that the fate of TikTok in the United States is uncertain. Earlier, Trump announced that the application would be banned in the country, after which Microsoft announced negotiations with the owners of TikTok for the sale of the application. The acquisition price might be around $30 billion.
In the last 7 days, the company's shares have shown rapid growth. It amounted to over 13%. On July 30, the FB stocks rose almost by 10% after a quarterly report that turned out to be much better than was anticipated. The boycott against Facebook organized by hundreds of companies, which suspended their ads on the platform didn't have much of a negative influence on the Facebook's earnings. 
Therefore, the share price was approximately at the same level until today.  Today's growth is more than 6%. At the moment, the company's shares have already established a new all-time high and, apparently, are not going to stop there, continuing their rapid rise.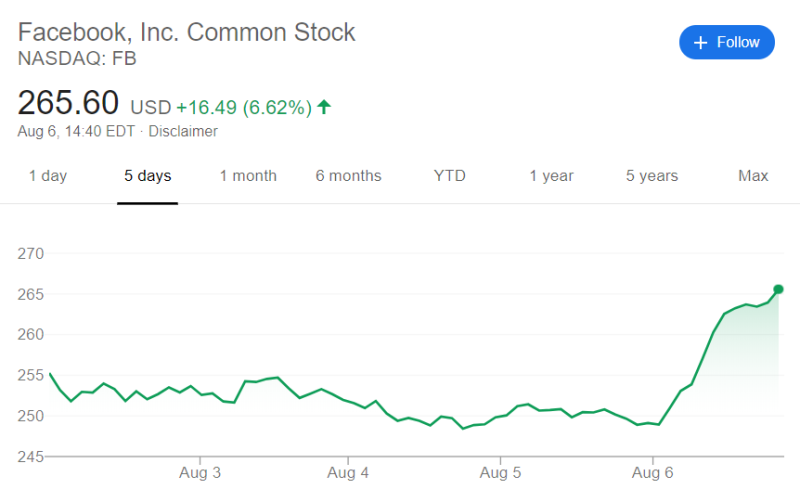 Image Source: Google Finance FB