Robinhood traders keep being very active on the stocks market and give their preference to  the following companies today: Apple (AAPL), Trevena (TRVN), and Seres Therapeutics (MCRB).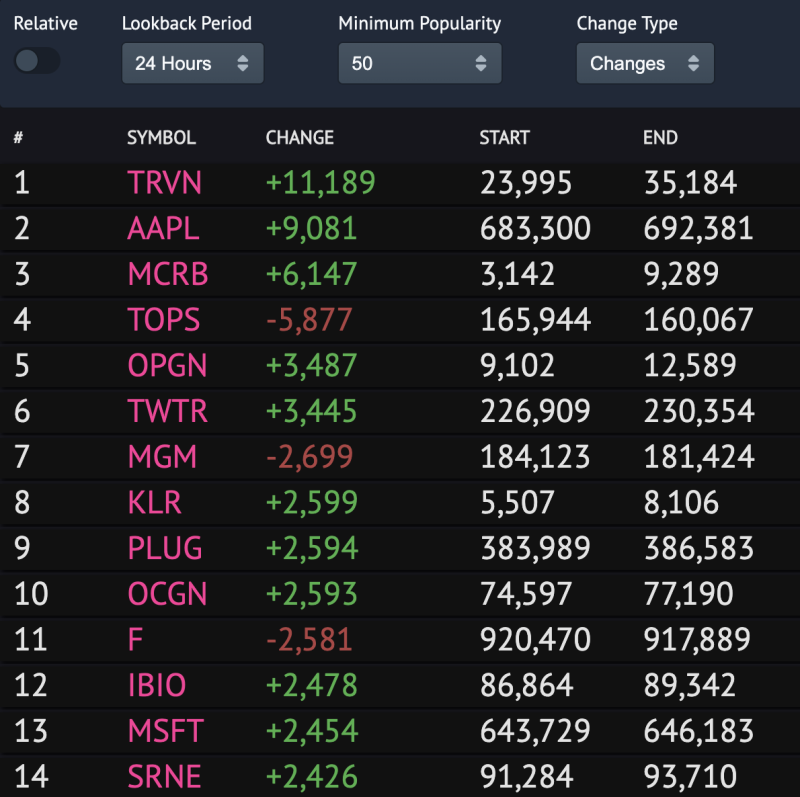 Image source: Robintrack
Apple (AAPL)
It's no surprise to see Apple (AAPL) in the list, as the richest business in the world is not in the top list for the first time. According to Wedbush Securities, Robinhood traders' trust in Apple may be connected with the development of 5G. The company can take advantage of new technology and continue growing.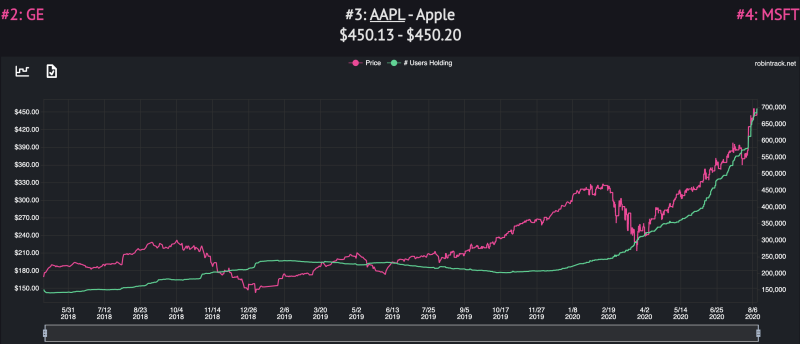 Image source: AAPL chart
In January of 2020, Dan Ives, an analyst from Wedbush Securities, predicted Apple's market capitalization to reach $ 2 trillion by the end of 2021. However, now the specialist says that this milestone could be hit much faster.
The launch of the iPhone with a support of the fifth-generation networks is expected to give the stock an additional boost, consequently having a positive impact on Apple's capitalization. Wedbush analysts have changed their forecast for Apple's target rate from $425 to $450 and even say that in the most optimistic scenario, the stock could rise to $525.
AAPL is trading at $450.83 at the press time.
Trevena (TRVN)
Trevena (TRVN) is a biopharmaceutical company, the rate of which has rocketed by more than 100% over the last few days.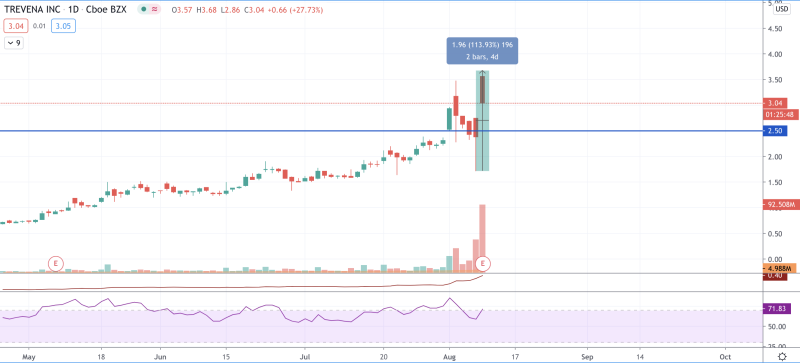 Image source: TradingView TRVN
On the daily chart, the TRVN stock could not fix above the $3.50 mark, having made a false breakout. Even though the rate of the share has significantly gone down over the last day, the RSI indicator is still located in the overbought zone, which means that a further decline is likely to occur. If that happens, the nearest support, where bulls may show strength, is $2.50.
TRVN is trading at $3.11 at the press time.
Seres Therapeutics (MCRB)
Seres Therapeutics (MCRB) is another pharmaceutical company, which is also in the top 3 by Robinhood traders.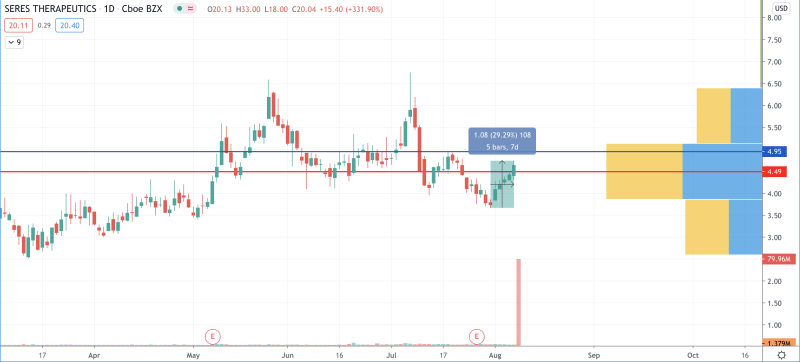 Image source: TradingView MCRB
On the daily time frame, the MCRB stock has bounced off the $3.70 support zone. The rise is likely to continue as it is supported by the increasing trading volume. That is there are all chances to see MCRB trading at $4.95 within the next days.
MCRB is trading at $4.49 at press time.