Apple Market Cap Equals to about 98% of Russell 2000
Michael A. Gayed, a portfolio risk manager and an analyst, reports that the market cap of the largest tech company, Apple, is close to the total market cap of the Russell 2000 Index.
"Do you think that within the next few days, Apple's market capitalization will be more than that of the entire Russell 2000 companies combined? Justified or bubble?" Michael A. Gayed via Twitter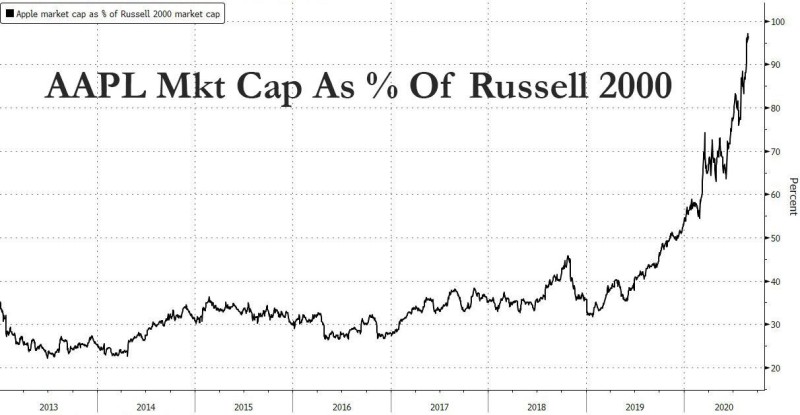 Image Source: Twitter @leadlagreport
Russell 2000 includes the smallest 2000 of Russell 3000 companies. Russell 3000 accounts for nearly 98% of companies in the US market, while Russell 2000 includes the bottom 2/3 of it. It is often contrasted with the S&P 500, which, by contrast, targets the largest companies on the market.
The Reasons of Apple's Growth and Small-Cap Fall
The fact of the rapid growth of Apple's capitalization and it's approaching the total capitalization of all companies in Russell 2000 no longer seems surprising. The largest technology companies, which, of course, include Apple, benefited the most from the coronavirus pandemic. Their shares have risen by tens of percent after the March fall, and now they are reaching new all-time highs.
Small stocks, on the other hand, were significantly affected by economic lockdown. Some industries have lost from 30% to 50% of their value. Barry Ritholtz, a chief investment officer at Ritholtz Wealth Management, believes that the rapid growth of the largest companies and the fall of small ones are to be expected. Large companies are more focused on developed foreign markets, many of which were less affected and were able to recover faster, while smaller companies rely more heavily on the domestic U.S. market.
Apple's shares are now on the rise following good second-quarter earnings and an announced stock split that will take place on Monday.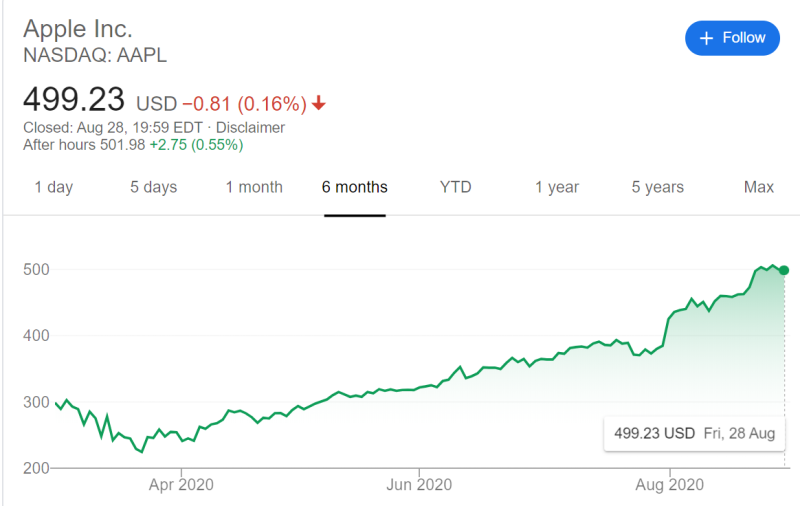 Image Source: Google Finance AAPL
The combined market cap of the 5 largest companies, which together are called FAAMG, including Apple, for the first time in history equals to $7 trillion. This means that now only 5 companies make up about 25% of the total S&P 500 index.