Tech and Energy Sectors Are on Different Corners of SPX Spectrum
Otavio Costa, market analyst and investor, shows the difference between the growth of the various industries that make up the S&P 500. If we take February 1, 2020 as a starting point, it turns out that, in general, many sectors moved parallel to each other at about the same level.
One would wonder what energy stocks are trying to tell us again.... Call it a tale of two sectors: Tech in La La Land vs. energy rolling over. The rest comes right in between.Let's not forget:A similar sector disconnect also occurred prior to the Feb peak. Otavio Costa via Twitter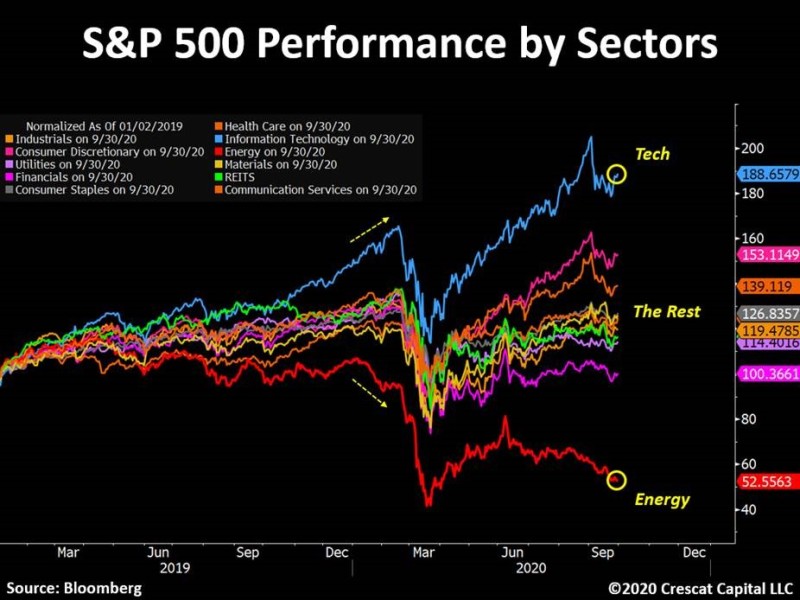 Image Source: Twitter @TaviCosta
However, the gap between companies in several sectors is only widening. The undisputed leader is the tech sector, which companies outperformed other companies by a huge margin. The outsider is the energy sector, where companies are below the February levels, despite the growth of other sectors.
In general, this may indicate that the US economy is still far from being recovered if the demand for energy resources is still low, and such a dominance of one sector has emerged on the market.
Energy Sector's Fail and Growing SPX Divergence
Earlier, analysts have said that the energy sector is not able to return to the pre-crisis growth trajectory yet, the impact of the decline in oil demand turned out to be too significant. In addition, the demand for renewable energy was recovering at a much faster rate than the traditional power sources.