Michael A. Gayed, an analyst and a portfolio risk manager, reports that the Nasdaq 100 Fear and Greed Index hit its all-time high.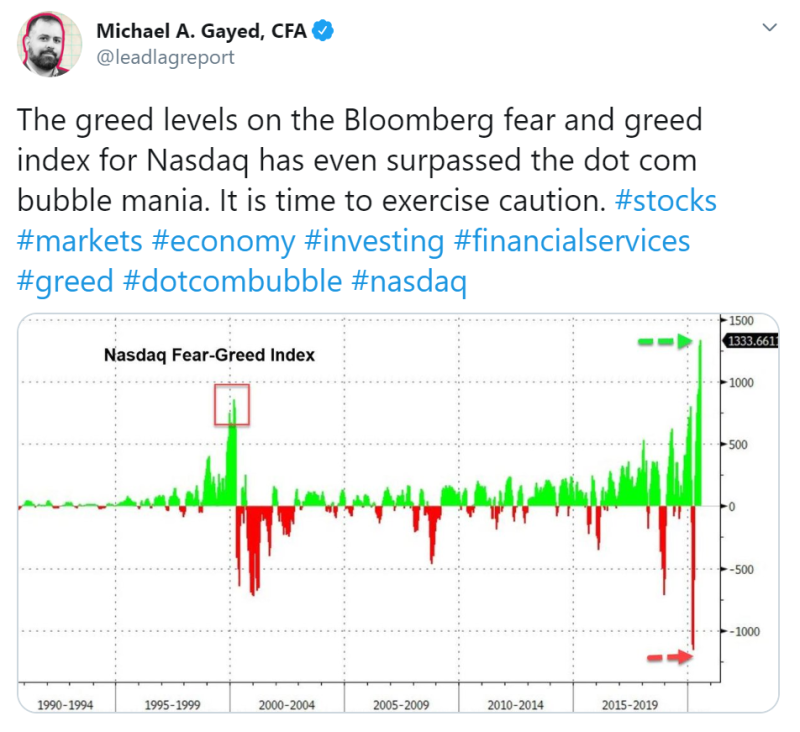 Image Source: Twitter @leadlagreport
Dotcom Bubble
The analyst notes that the index values ​​exceeded the highs of 20 years ago, which corresponded to the heyday of the dot-com bubble. Given the sad ending of the bubble, which resulted in the loss of more than 5 trillion in market capitalization and the loss of confidence in Internet companies for a whole decade, Mr. Gayed believes that investors need to now be careful not to repeat the Dotcom bubble burst.
Researchers issued a warning some time ago that tech stocks represent a huge bubble that is about to explode. They believed that the current volatile index movements resemble the events of twenty years ago.
What is Fear and Greed Index?
This index measures two basic emotions that determine at what price investors are willing to sell or buy assets on the exchange. The indicator is based on a comprehensive analysis of several market indicators, such as the volatility index, demand for junk bonds, the ratio of call and put options, and the strength of the stock market.
The idea behind the index is that if it is low, it means that fear prevails over greed, and investors don't want to take risks. If, as in the current situation, the index values ​​are high, it means that greed has taken over and now the share price is rising with no regards to its fair value.