Sven Henrich, an analyst and a founder of Northman Trader, announces an unprecedented bubble in the U.S. stock market.

Image Source: Twitter @NorthmanTrader
According to his research, just 5 companies added more than $500 billion in capitalization in less than a week. These companies are Microsoft, Amazon, Apple, Google, and Facebook.

Image Source: northmantrader.com
He also notes that since the beginning of the year, these same companies have grown in capitalization by $1.6 trillion. According to Heinrich, this indicates bubble growing. In his opinion, this bubble is the largest in history, because even during the inflation of the Dotcom bubble, the market capitalization of companies did not grow at such rapid pace.
Among other things, the growth of the bubble is also evidenced by the fact that today a new all-time maximum has been reached for the Nasdaq/S&P 500 ratio: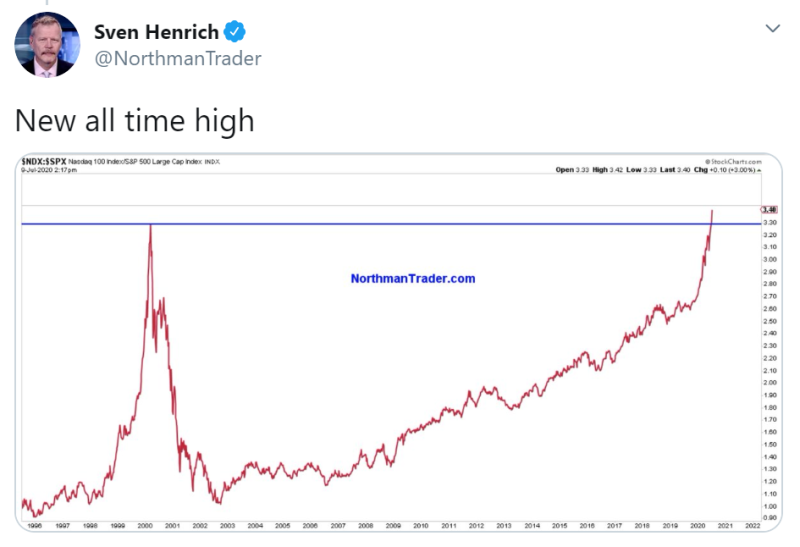 Image Source: Twitter @NorthmanTrader
Large technology companies have a big weight in the Nasdaq Index, while the S&P 500 Index reflects general market trends better. Thus, such sharp  increase in the gap between the two indices proves that large technology companies are growing the most.
Mr. Heinrich is not the only one to note the factors that may indicate the growth of a bubble on the market. Earlier, Jesse Felder, analyzed the gap between the market capitalization of companies and their profit, and came to the same conclusion.