On Monday, following fourteen years in which the company delivered Intel chips, Tim Cook announced that Mac computers would soon have apple processors in place. The Apple CEO spoke to the annual developer meeting in a pre-recorded video, which this year is completely online because of the pandemic of coronavirus.
With the latest modules, iPhone and iPad software can be used on a whole range of computers. The first "Apple Silicon" model will be on the market by the end of the year but it will take two years to complete the transition. During this period, Apple will release computers equipped with Santa Clara processors.
However, this is not the end of cooperation between the two giants. Intel will also supply data processors to support other Apple services, such as iCloud. Intel reports their business, which is focused on the personal computer marker, still has Apple as its customer. 
Investors seem to share the same view. The price of Intel stock (INTC) did not fall on Monday, instead, it even increased in price. The increase in trading on Monday was +0.79%. At the premarket on Tuesday, the price is also continuing to climb and adds 0.53%.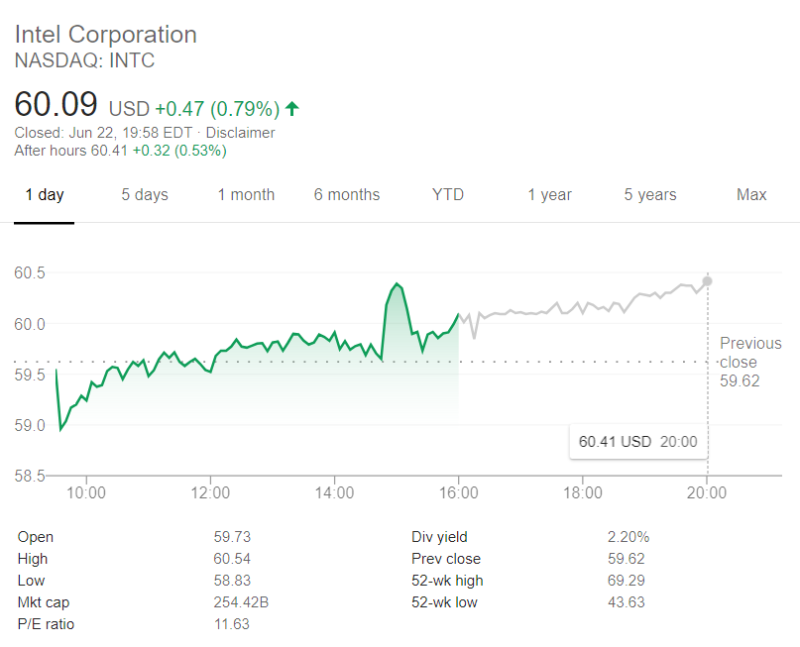 Image source: Google Finance
According to the quarterly report released in March 2020, the company's revenue increased by +23.45% compared to that of a year earlier. Net profit increased by +42.45% compared to last year's figures.