The DeFi ecosystem is gaining momentum and moving to other blockchains. The decentralized exchange JustSwap was successfully introduced in late July as part of a plan by TRON (TRX) to grow its DeFi market. This time, Justin Sun has launched its own cryptocurrency exchange protocol, but there is a small hitch.
Sun marketed the Tron-based Decentralized Platform, JustSwap, as "open for all" and "an alternative to UniSwap." JustSwap is the first decentralized exchange protocol of TRON that lets users instantly trade TRC-20 tokens without any exchange commission. This is the pitfall of this "free" token exchange.
As of September 2, cryptographic exchange protocol JustSwap overtakes the popular exchange protocols such as UniSwap, Aave, Curve Finance. The founder of Tron cryptocurrency couldn't help noting this event.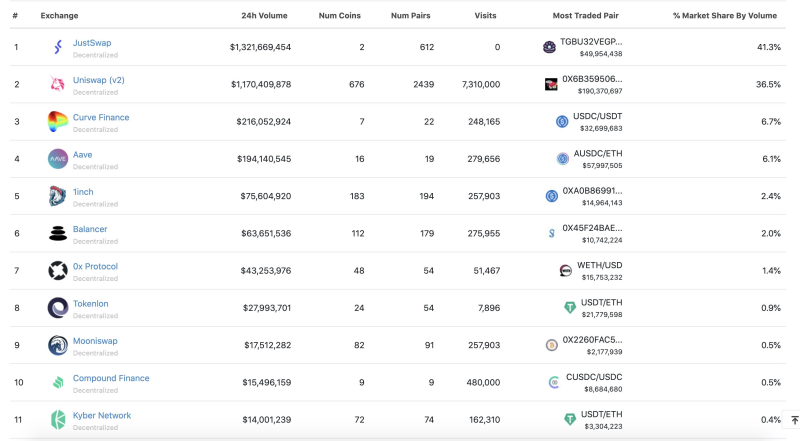 Image source: Twitter @justinsuntron
What's Wrong with the JustSwap Protocol?
However, there is a strange pattern in the protocol. More than 80% of all trading operations fall on just one pair. At the same time, the protocol is at the top of the issuing volume.
Other users couldn't help but notice such suspicious activity. A researcher, Larry Cermack, accused Justin Sun of creating a fake trade volume (wash trade) in order to get to the leaders' list.

Image source: Twitter @justinsuntron
At the same time, Justin Sun said he had no idea what was going on in the protocol. 
TRON (TRX) will try to provide free exchange operations in order to make the exchange protocol available to everyone.
It should be noted that commission for transactions in the Ethereum network have updated historical values and partially paralyzed the work of some protocols.