Grayscale Investments also published findings from a Bitcoin study, which claim that existing trading dynamics reflect data seen in 2016 and about 18 months prior to a record rally.
The rising importance of crypto-currency markets has gained media coverage. Bitcoin has been checking and hitting the $12,000 mark many times this month, while Ethereum celebrated a variety of milestones in what was potentially its most profitable year.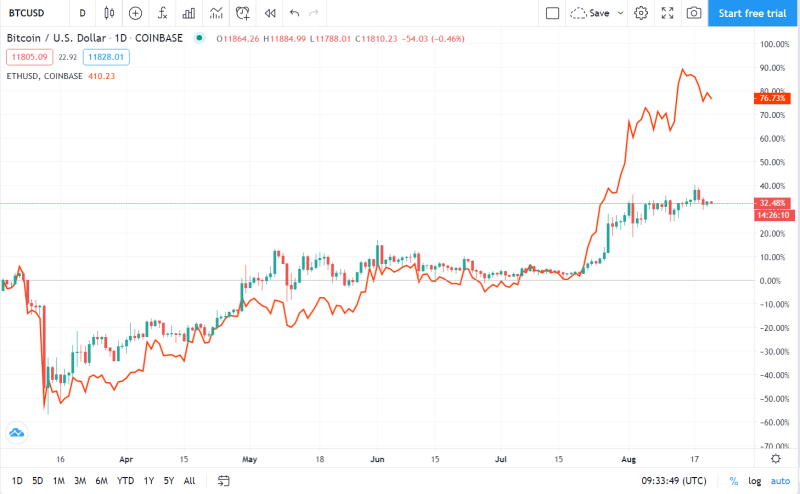 Image source: TradingView ETH/USD and BTC/USD comparison
What Does the Grayscale Report About it?
The Grayscale's study starts by deciphering the connection between the Federal Reserve's policy and inflation. In particular, the report identifies the US Federal Reserve's decision to remove the US dollar from the gold standard in a particular focus on American monetary policy.
Since the dollar still retains its buying power, the danger presented by quantitative easing and the dynamics of inflation has been understood by more knowledgeable investors. Most creditors thus aggressively pursue assets that maintain value, in fear of their fiat-currency securities being severely devalued.
The Real Value of Bitcoin
Because Bitcoin is not an asset generating cash, investors cannot model their present value by a standard discounted cash flow analysis. Valuing Bitcoin in many respects is close to gold and it's evaluating. We can use relative evaluation and supply/demand analysis to value Bitcoin as an investment instead of depending on cash flows - according to the Grayscale report.
Some details may be gathered from various metrics, but the study also explains how such metrics will not show the full picture because most bitcoin transactions take place without a link. The complete report can be found here.