Dark times have come for the Ethereum cryptocurrency. Since September 5, the decline in the price of Ethereum against the dollar has been almost 11%. Since September 1, in just 9 days, the value of the cryptocurrency has dropped by 30%, having lost about $140.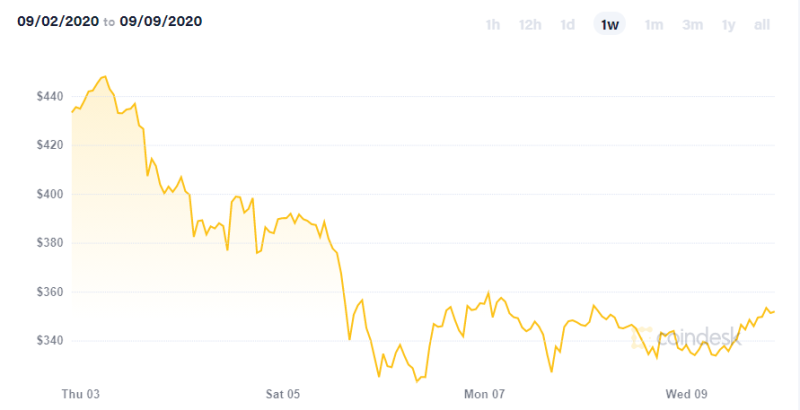 Image Source: coindesk.com ETH
Bears Underestimate Ethereum
However, a crypto investor and a trader, Crypto Michaël, believes that such a bearish sentiment that has has an impact investors towards Ethereum is questionable. He shared his analysis on Twitter:
I don't know why everyone is so bearish, but Ether is acting above the 100-Week and 200-Week MA's for the first time since May 2018. Also -> it made a new higher high at $450. And looking for a new higher low. That's actually great.  $ETH #ETHEREUM Crypto Michaël via Twitter
He notes that now, for the first time since 2018, Ethereum is above its 100-week and 200-week moving averages. Thus, moving average lines form stable support levels. By consolidating on them, the cryptocurrency can start a new round of growth.
Besides, despite the emerging resistance, ETH has already shown a new intraday high, a price that Ethereum has not seen equal since 2018.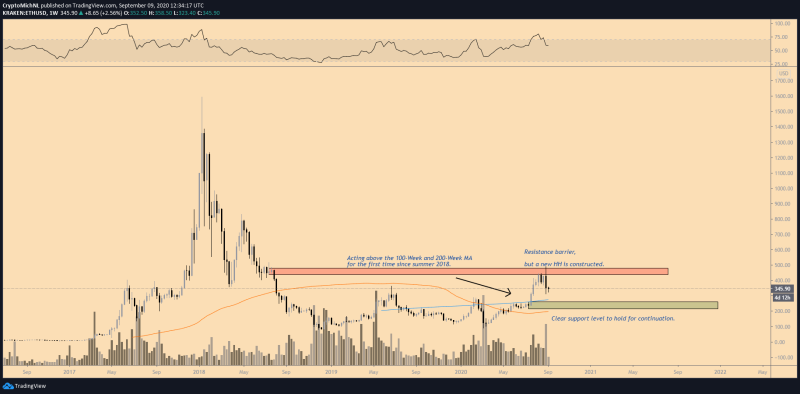 Image Source: Twitter @CryptoMichNL
The Long-Term Perspectives
The long-term perspectives for cryptocurrency also look promising. According to an analysis by YellowBlock educational hub, ETH's contract volume exceeded $24 billion in August, which is more than the ones of Tron and EOS.

Image Source: Twitter YellowBlock_io
However, it should be remembered that along with the volume of transactions, their fees also grow. A week earlier, Ethereum set an anti-record when the average price per transaction rose to $8.