The recent hacking of popular Twitter accounts is still being discussed online. It is worth to note that there are positive aspects of this incident.
The founder of the cryptocurrency exchange Binance, Changpeng Zhao (CZ), whose account was also hacked, published a series of tweets saying that you need to look positively at this hack.

Image source: Twitter @cz_binance
CZ claimed that Bitcoin was not hacked and Bitcoin itself did not deceive anyone. On the contrary, hackers wanted to get Bitcoin because it has value. At the same time, no Bank or financial structure was affected.
The hacking of Twitter reveals a serious problem. With the growth of cryptocurrency adoption, the value of what is published on these platforms is growing, thus security level should be increased accordingly. Internet platforms are no longer just for selfies, they are used to exchange value.
Internet platforms are no longer just for selfies, it is used to transfer value. Changpeng Zhao, a CEO of Binance
According to Zhao, most platforms today do not have proper protection for using cryptocurrencies on them. Twitter's audience is actively using cryptocurrency, which is why this platform was chosen as the main target. Youtube / Google Ads, Facebook, etc. are on the list of hacking contenders.
At the same time, CZ tweeted in early June that Twitter has a significant bug that allows you to bypass two-stage verification.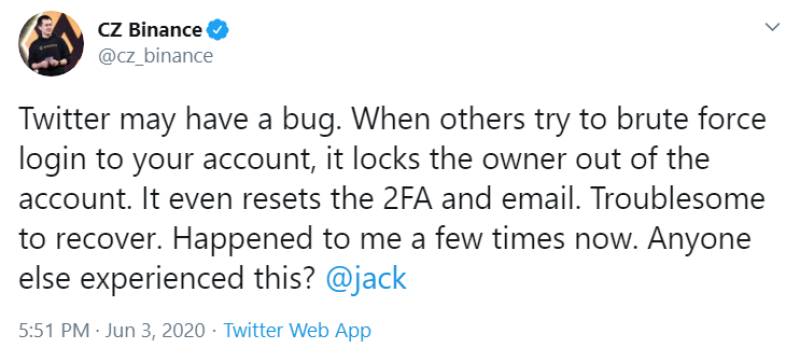 Image source: Twitter @cz_binance
In the end, CZ said that he hopes that this incident will have a positive impact on the crypto community. He believes that the community needs to be more aware and not be led by such provocations.