During the Friday trading session, the price of gold fell by 1.5%, which was the most significant drop in the past few weeks. Nevertheless, experts believe that this is only a short-term situation, the growth will continue soon.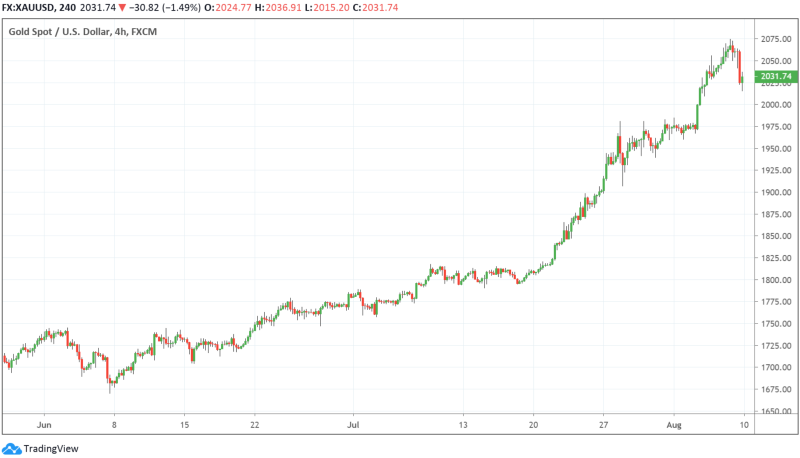 Image Source: TradingView XAUUSD
The price of Gold Will Grow Even Higher as USD and U.S. bonds are Getting Weaker
According to Reuters, the gold price has risen by $500 per an ounce since January, with $200 of that coming in the past two weeks. Such rapid growth may raise doubts about the prospects, but he believes that they have no basis and growth will continue. This year alone, investors purchased more than 922 tons of gold for a total of about $60 billion.
However, two alternative defensive assets are now in a bad shape: real returns of the U.S. bonds dropped to -1%, while the price of dollar fell to its 2-year lows due to the growing concerns about the virus.
Inflation Will Pump the Gold Price up.
Tuomas Malinen, the CEO of GnS Economics Advisory, also claims that gold prices will continue to rise despite record highs.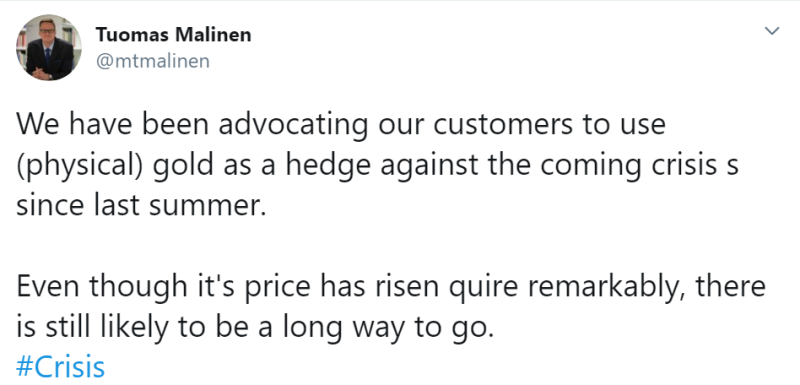 Image Source: Twitter @mtmalinen
His advisory tells clients to purchase physical gold. As long as central banks are pumping money into the markets and lowering interest rates, gold remains an effective hedge fund against inflation. Unlike money, its quantity remains unchanged, so the price of gold will naturally continue to grow along with the inflation.
Earlier, experts have predicted a rapid increase in gold, which will continue soon. Peter Schiff argued that the price of gold will rise to $3,000-5,000 in the next few years.