According to PiQ (@PriapusIQ), the price of Gold (XAU) has surpassed the $1,900 mark for the first time since 2011.

Image source: Twitter @PriapusIQ
The maximum price for August gold futures during trading today was $1,904.45 per ounce. By 5:06 p.m. (GMT+3), quotes amounted to $1,900.40, which is $10.40 (0.55%) higher than the closing price of the previous session.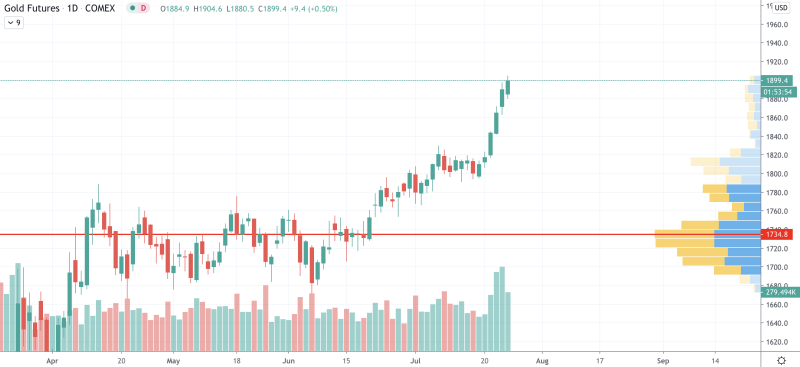 Image source: TradingView XAU
Gold (XAU) closed the previous trading at a historic high of $1,891.9 per ounce, repeating the record set on August 22, 2011. However, the intraday high was reached on September 6, 2011 and it was $1,923.7 per ounce. Thus, the quotes jumped more than 35% from the multi-year low recorded in March.
Since the beginning of the year, gold has risen in price by more than 25%. Due to massive stimulus from central banks, inflation risk has increased this year. Gold generally benefits from regulatory stimulus as it is perceived as a hedge against inflation and currency depreciation.
The coronavirus pandemic creates uncertainty in forecasts for the global economy. For this reason, investors are looking for safe assets, which increases the demand for precious metals. That might be the reason for the sharp growth of Gold (XAU).
Gold is trading at $1,899 at press time.