Uber Technologies has decided to start delivering food products. In Canada, only residents of Toronto and Montreal can use this service. Clients can order products at Walmart, Metro, Rexall, Costco, Longos, Pet Valu and Well.ca through the Uber and Uber Eats apps. Uber promises to deliver products within two hours.
Earlier, Uber signed an agreement to acquire Postmates, a young food delivery company. The deal was worth $2.65 billion. Uber is expected to merge Postmates with its subsidiary Uber Eats, which is now expanding due to increased demand for food and grocery deliveries during the pandemic.
At the same time, Postmates and Uber Eats will occupy a total of 37% of the US food delivery market, losing only to DoorDash, which occupies 45%.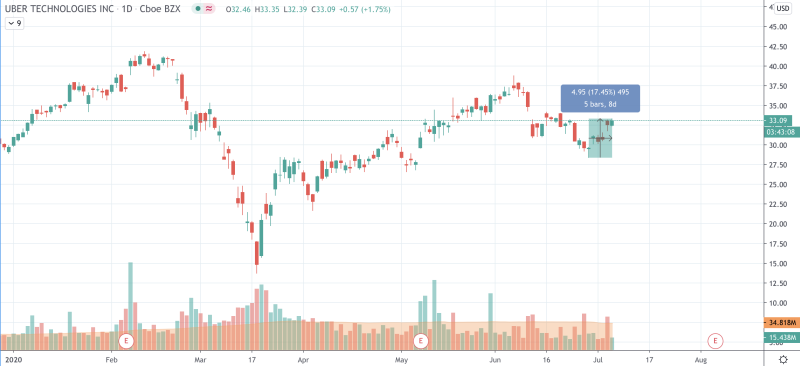 Image source: TradingView UBER
According to the daily time frame, the drop has been stooped at the value of $30. At the moment, it is too early to think about the end of the fall, as it is rather a bounce back. The UBER share has risen by almost 20% over the last 8 days, supporting bullish potential. If buyers can keep the stock above $30, the growth might continue. UBER is trading at $33.09 at press time.