Charles Gasparino, the Senior correspondent of Fox Business, shares the insider information on the deal between TikTok and Oracle.
New Insider Information on TikTok Deal
He claims that the deal between Oracle and TikTok is almost complete, and the parties were able to agree on a change in the algorithms for the application, which is now likely to satisfy the requirements of the US government.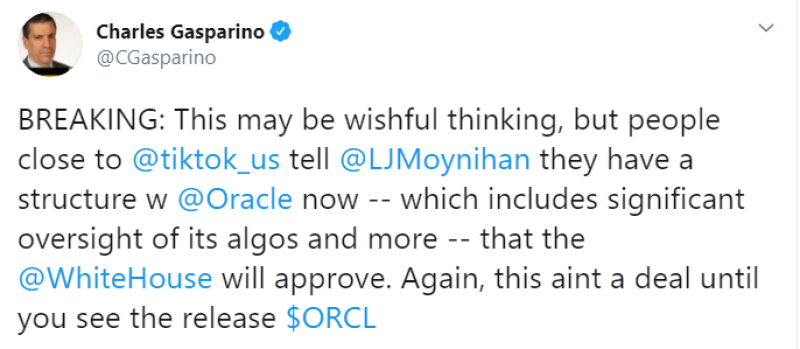 Image Source: Twitter @CGasparino
The race to buy TikTok began in August when President Trump announced that the company had to or it would be banned in the US. Immediately after that, Microsoft wanted to buy the app, and later Oracle and Twitter joined the race.
Even though Microsoft was considered the favorite, the Chinese government strongly opposed the possibility of selling TikTok to an American company. Finally, a few days ago it became known that it is the Oracle who will sign the deal with TikTok, while the format of interaction between the companies would be changed: it would not be an acquisition, but a partnership agreement.
Fastly Cloud Service Provider Will Also Benefit
Jonah Lupton, an entrepreneur and growth investor, believes the deal will also have an impact on the stock of Fastly, a cloud computing services provider. If the deal is approved by the US authorities, Fastly's stock should skyrocket, Mr. Lupton said.

Image Source: Twitter @JonahLupton
He clarifies that this is since TikTok is currently using the Fastly platform, if the application can continue to work in the United States, the company's shares can grow:
"I believe Oracle will definitely continue to use $FSLY. The biggest risk to $FSLY over the past two months is TikTok getting banned and $FSLY losing 6-12% of their revenues." Jonah Lupton via Twitter
Previously, Fastly's shares had already shown a rapid growth in early August, when information about Microsoft's intent to buy TikTok was announced for the first time.