The sideways trend now applies not only to the cryptocurrency market, but to the stock one as well. Most of the assets have stopped their growth after a rally has started in April of 2020.
Tesla (TSLA)
Tesla (TSLA) remains one of the most popular stocks these days. Although the share has declined since yesterday, the rise has made up to 90% over the last two weeks.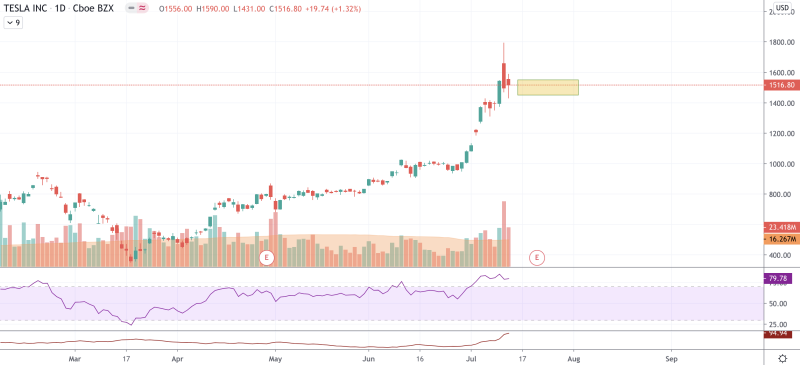 Image source: TradingView TSLA
From a technical point of view, almost nothing has changed since yesterday. The stock has not gone below the $1,500 mark, which means that the current is of high importance for buyers. But the asset is still overbought based on the RSI indicator. Besides, the seeking trading volume is high, which means that the correction may continue. In this case, traders may expect to see TSLA trading in the area of $1,450-$1,550 shortly.
Amazon (AMZN)
Amazon (AMZN) is trading like Tesla (TSLA) as it has also set a new all-time high followed by a fast bounce off.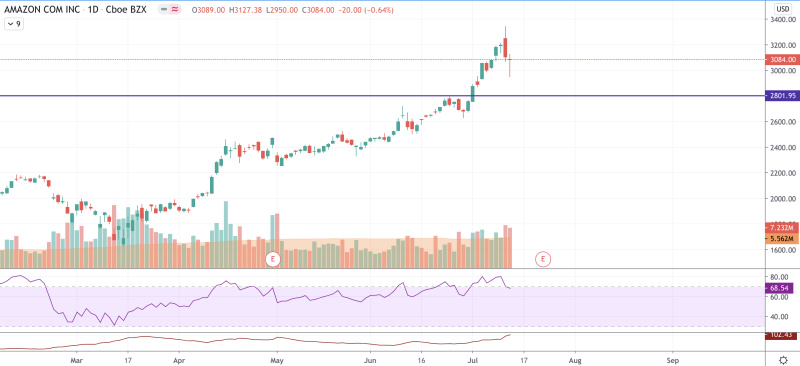 Image source: TradingView AMZN
On the daily time frame, AMZN has just entered the correction phase. The selling trading volume is high enough which means that it is too early to consider the continued growth. As the more likely scenario, the ongoing drop may stop close to $2,800. It may occur before the end of the month.
Netflix (NFLX)
Netflix (NFLX) is doing much better than either Tesla (TSLA) or Amazon (AMZN). After a sharp decline yesterday, the stock has managed to recover the lost positions and to keep rising.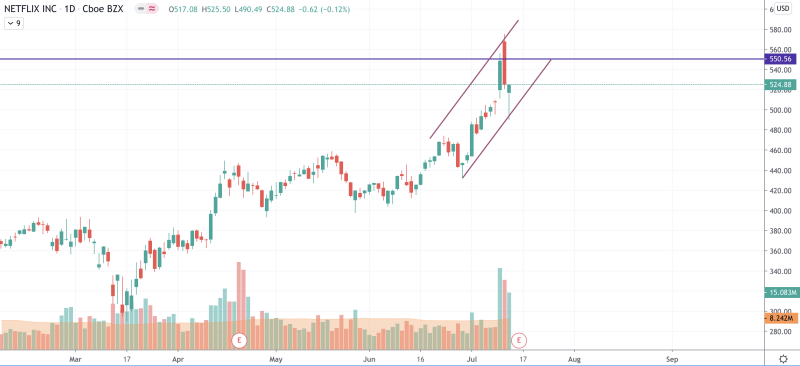 Image source: TradingView NFLX
Netflix (NFLX) is locating in the ascending channel and not going to leave it as the bullish dominance remains high. If the trading volume is as high, a retest of the $550 mark might happen.
Apple (AAPL)
The richest company in the world is showing the best price action among all stocks from our today's list.
Image source: TradingView AAPL
AAPL keeps trading in the rising channel since mid-March 2020. The growth is supported by the constant growing volume which is a bullish signal. After yesterday's drop, bulls did not let bears seize the initiative. Consequently, traders may expect a continued rise to the peak at $400 per share.