The share of Chinese electric vehicle maker, Nio, rose by nearly 23% in just one day of trading. This allowed the stock to break all-time highs and get even closer to the psychologically important milestone of $20 per share.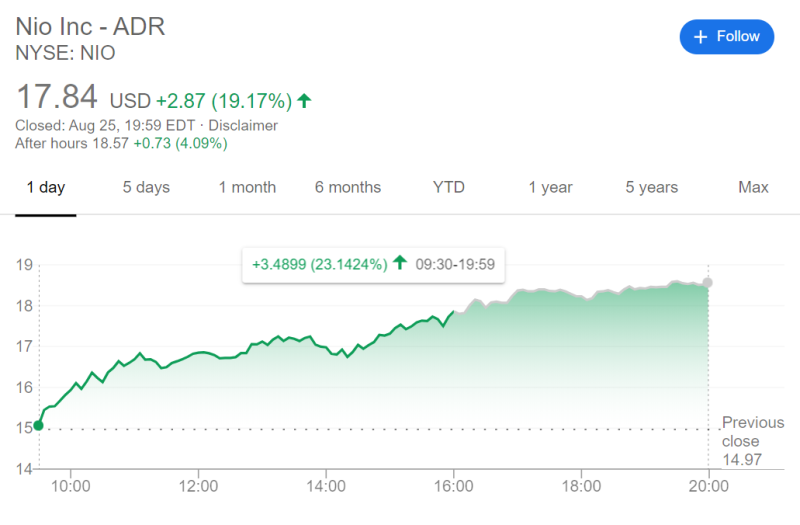 Image Source: Google Finance NIO
Abnormal movements in options were detected on Monday. 21,300 of weekly $15 calls, which expire this Friday (August, 28) were purchased for something between $0.46 and $0.70 with shares' price being at $14.87 at that time. By Tuesday evening, these options were trading up to $1.45, more than double of their purchase prices.
The rapid growth of the Nio's stock led to a revision of analysts' forecasts towards an increase in the target price. According to the MarketWatch aggregator, the average target price exceeded $ 97 based on the estimates of 15 experts.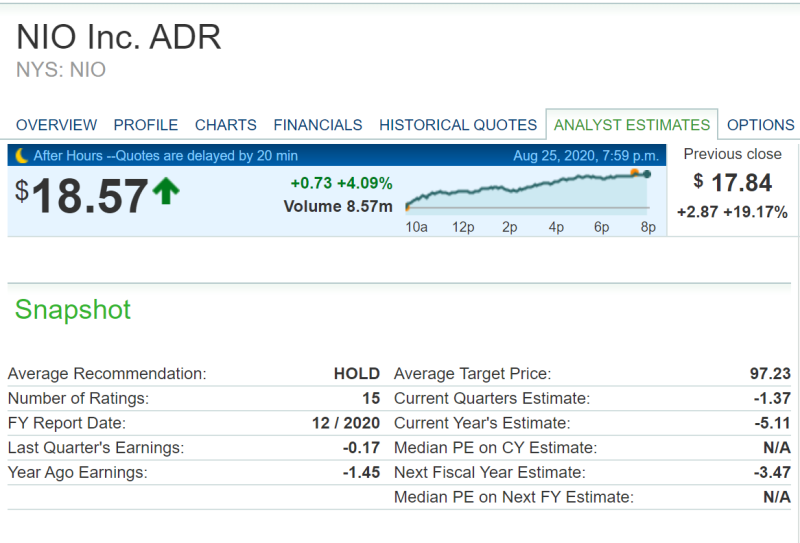 Image Source: marketwatch.com NIO
Besides, it became known that CNNBusiness had increased its forecast for the company's stock price. Analysts assume that in a bullish, most favorable scenario, the share price will rise to $ 159 (+790%) in 12 months, in a bearish, unfavorable scenario, an increase to $30 (+68%) will be observed. The median forecast predicts a price increase to $104 (+485%).

Image Source: money.cnn.com NIO stocks
The company's shares have been demonstrating steady growth for a few weeks. The initial trigger was the favorable reporting, which showed the rapid growth of deliveries both in the second quarter and in the first half of 2020 compared to the same periods of last year. Even back then, experts predicted the share price to rise to $20.
On Monday, it was reported that the number of shortists in Nio's shares fell to a minimum, and this is a signal for a bullish surge, which was observed on Tuesday.