According to Europeworldnews, the Chinese mining company Ebang will appear on the Nasdaq listing under the ticker symbol EBON on Friday, June 26th. As part of the IPO, the company hopes to raise between $106 and $ 125 million.
One of the largest manufacturers of Bitcoin mining equipment in the world, Ebang International (EBON), applied for an initial public offering (IPO) in the United States in April of this year.
On June 17, the company submitted its latest application to the US Securities and Exchange Commission (SEC), selecting NASDAQ as the listing exchange. Ebang wants to raise from $ 106 to $ 125 million by putting 19.3 million shares up for sale at prices ranging from $4.5 to $6.5 per share. If the IPO is successful, Ebang's market value could approach $800 million.
Ebang will be the second mining company to enter an IPO in the United States. Earlier, in November 2019, another mining equipment manufacturer, Canaan (CAN), raised $90 million on Wall Street.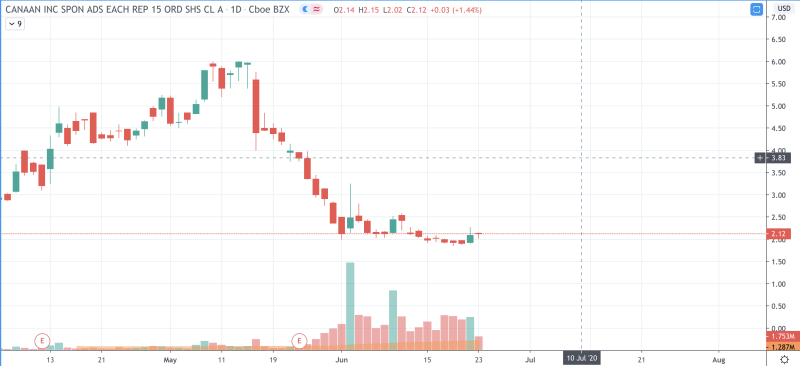 Image source: TradingView CAN
The price of the share has been steadily going down since May 2020 and now is trading around $2.