Microsoft has announced a new approach to its retail store. According to the company, retail stores will be closed and all sales will be made online at Microsoft.com. All retailers will be transferred to online stores and will be able to continue working there. Therefore, no employee will be fired.
Our sales have grown online as our product portfolio has evolved to largely digital offerings, and our talented team has proven success serving customers beyond any physical location David Porter, Microsoft Corporate Vice President
Microsoft has started to expand its retail presence over the past decade or so in the attempt to create an Apple-like shopping experience by the people testing the new Microsoft software and hardware created in-house or by its partners. On 5th Avenue, in New York, Microsoft even built a shop a few blocks away from the iconic glass cube store of Apple.
But also following the example of Apple, Microsoft decided to close its offline stores. Apple recently announced the re-closure of stores in Florida due to increased cases of the coronavirus infection. Microsoft decided to permanently close its retailers and fully immerse itself into online.
On Friday, trading for the stock opened with a sharp decline of more than 1.5%. Shares fell below the $200 mark, where Thursday's trading session closed.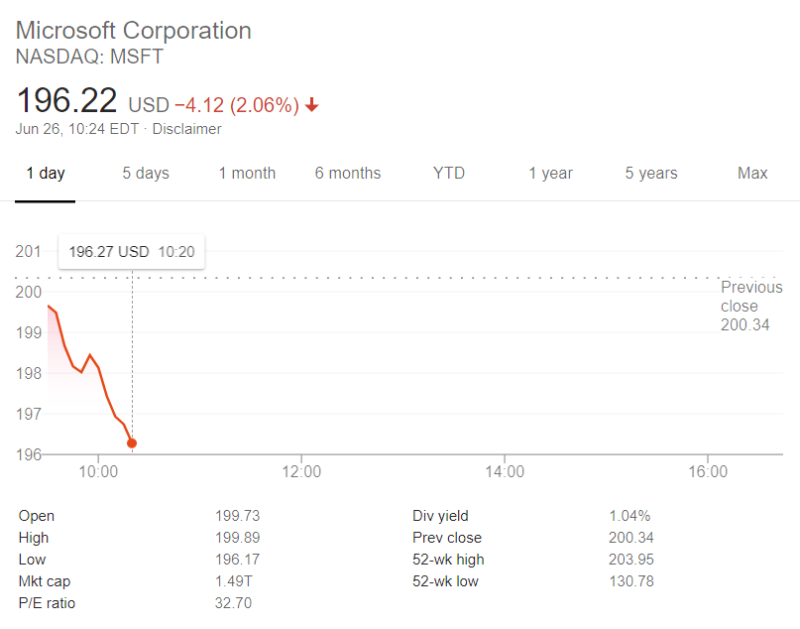 Image source: Google Finance