The passing quarter has been much better than the previous one. The technological companies such as Microsoft (MSFT), Apple (AAPL), and Facebook (FB) have shown the biggest growth. In addition to the stock market, cryptocurrencies have also risen. Mainly, Bitcoin (BTC) is trying to fix above the $10,000 mark.
Even though Bitcoin (BTC) has shown significant growth this quarter, most of its growth was in April. At the moment, the leading crypto has been consolidating in the range between $9,000 and $10,000.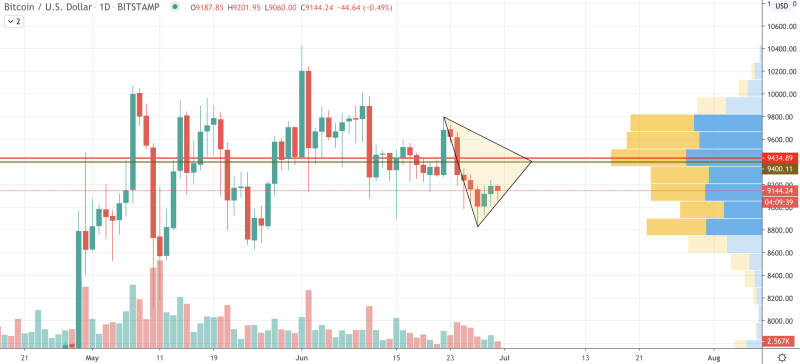 Image Source: TradingView BTC
On the daily time frame, Bitcoin (BTC) has formed the triangular pattern and trading with low volatility rate. Bulls control the situation until the coin remains above $8,500. If the bullish scenario continues, the end-point of the figure at $9,400 may be attained at the beginning of July.
Bitcoin is trading at $9,144 at the press time.
The NASDAQ 100 index is the biggest overachiever in our list. It has not just regained control over its positions since the drop in March 2020, but updated its heights.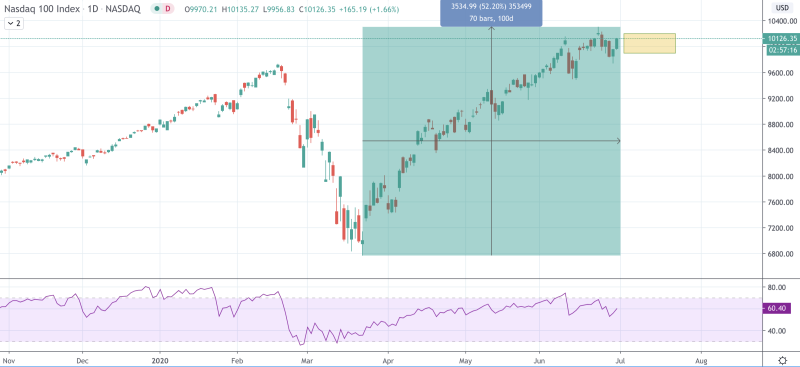 Image Source: TradingView NDX
NASDAQ 100 (NDX) has shown the parabolic in the passing quarter. From the technical points of view, the asset is unlikely to repeat it within the next 3 month. The Relative Strength Index indicator has almost reached the overbought zone. In this case, traders may expect sideways trading in the range of 9,900-10,200 points.
NDX is trading at 10,164 at press time.
TSLA has exceeded expectations of most traders. The asset has managed to get to the $1,000 mark and fix above it.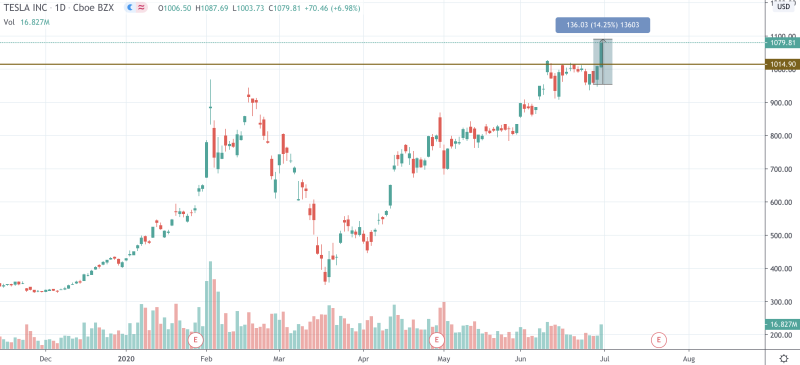 Image Source: TradingView TSLA
Although TSLA has got to $1,000 per share, its long-term scenario is bullish. At the moment, bulls are dominating over bears. However, TSLA needs more energy to keep growing. Respectively, there is a high probability for correction to the closest support at $1,014.
TSLA is trading at $1,079 at press time.
The S&P 500 index could not update the peaks reached at the beginning of the year. The 3,230 mark was achieved, followed by a rollback.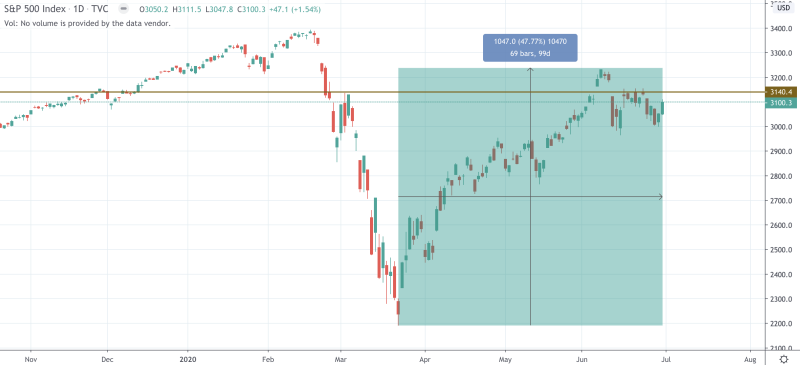 Image Source: TradingView S&P 500
The bullish scenario has not been cancelled yet, however, bulls need to fix above 3,200 to keep going higher. As for the short-term price projection, the resistance at 3,140 might be attained within the next few days.
S&P 500 is trading at 3,100 at press time.