AMD Stock Price Hits All-Time Highs, the Market Cap is $99 Bln.
Today AMD shares are breaking records during the trading session. As a result of a tremendous jump, they rose in price by roughly 9%.
At the beginning of the day, the company's shares crossed the $80 per share mark for the first time in their history, but did not stop there and continued their ascent. At the highest point, the share price exceeded $85, but then rolled back a little. However, price is not the only psychological barrier.
At the moment, AMD's market capitalization has exceeded $99 billion for the first time in history. Right now, it hovers around $99.3-99.5 billion. If the share price rises a little more by the end of the trading day, AMD can be congratulated on reaching $100 billion market capitalization.
Reasons for AMD Stock Price Rise
Ophir Gottlieb, a Reuters Contributor, is sure the price growth is caused by Jefferies target price rise from $86 to $95:

Image Source: Twitter @OphirGottlieb
In general, the company's shares perform very well. The last few weeks have seen rapid growth, the main phase of which began after the quarterly report of Intel, AMD's main competitor. Intel reported that they were postponing the release of new generation processors, which worked in favor of AMD. AMD's report turned out to be better than experts predicted, which opened up the possibility for further growth.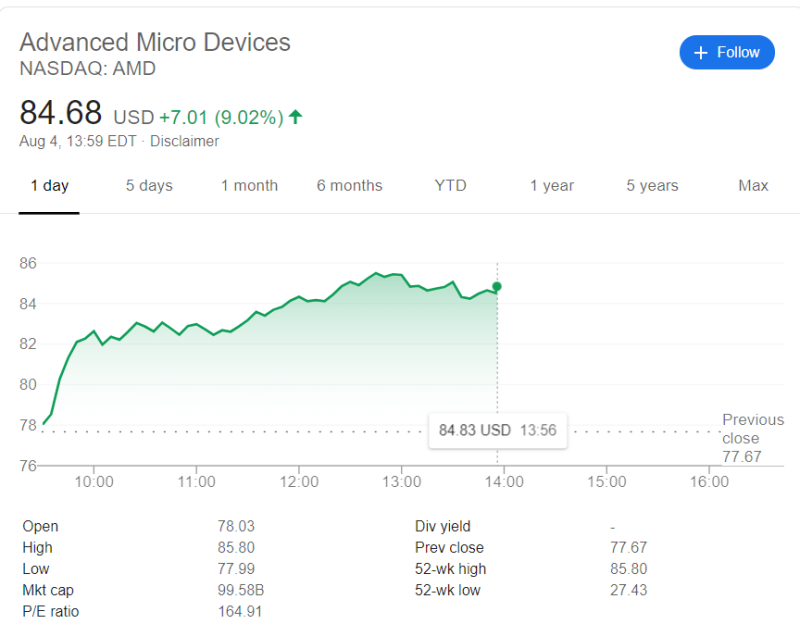 Image Source