Barry Schwartz, a partner and a chief investment officer at Baskin Financial, reports that all US cinemas are likely to be closed until the end of this year. This is due to the disappointing statistics on the prevalence of coronavirus cases.

Image Source: Twitter @BarrySchwartzBW
There might not be any premieres in the future if the situation with the pandemic does not change for the better, and such measures are required to protect the population.
The lack of premieres in cinemas means that streaming services will win if nothing interferes with the screenings. Netflix currently has a leading position in this market, so, according to Mr. Schwartz, it will also benefit from this news.
He believes that the value of Netflix shares should rise by 10%. If such increase does occur, it should help the company compensate for the drop in quotes that occurred after the release of the 2Q financials, despite the opinion of experts.
Ross Gerber, a co-founder & a CEO of Gerber Kawasaki, also believes that Netflix will become the main winner in this situation.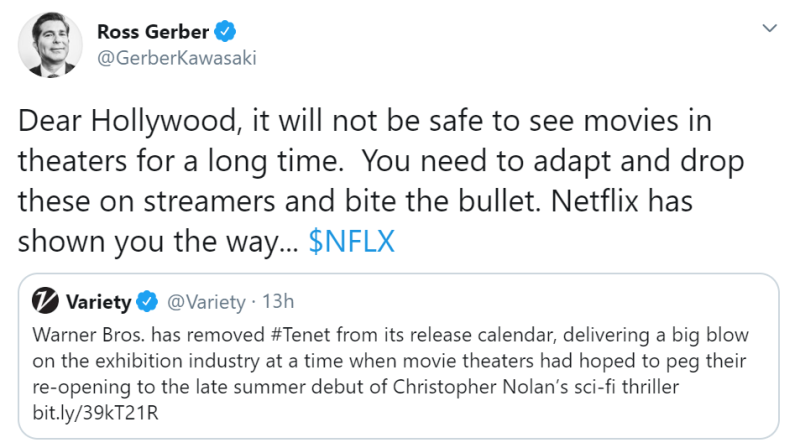 Image Source: Twitter @GerberKawasaki
He invites Hollywood to make the appropriate conclusions and move the premieres planned for fall and winter to streaming services.