Apple (AAPL) has paid attention to TikTok according to Twitter rumors. This is not the first company to get interested in TikTok. Recently, Microsoft has also expressed a desire to buy this social media company.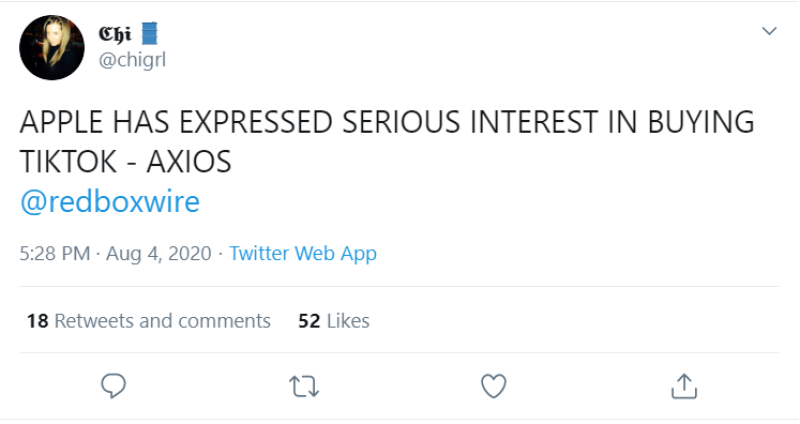 Image Source: Twitter @chigrl
Background of TikTok 
It is worth to mention that the US President Donald Trump said on Friday that he would block TikTok if Microsoft or any other US company refuse to acquire it. However, according to the latest news, Satya Nadella and President Trump had agreed.
TikTok is a broadcasting service of short videos, owned by the Beijing ByteDance company. TikTok was launched in 2018 and currently, it is the hugest short videos platform in China. This service is also very popular outside of China and is becoming one of the fastest-growing platforms in the world. TikTok;s offices are located in New York, London, Los Angeles, Paris, Berlin, Dubai, Mumbai, Jakarta, Seul, and Tokyo. The app has more than 1 million users from 150 countries. 
Why Does Microsoft Want to buy TikTok
According to the experts, the main reason for MSFT's interest in TikTok is data. This data could be used by Microsoft in various ways. The company has had previous experience in using users' data to conduct research for future software and hardware projects.
Another important reason for Microsoft to buy TikTok is the opportunity to get a foot into a social media industry. This step would add to MSFT's value, for sure. 
Apple (AAPL) is Microsoft's main competitor in many fields. This company, created by Steve Jobs, also seeks to diversify its business plan. Their desire to buy TikTok is currently nothing more than rumors. However, if those rumors are true, the race for the TikTok promises to be very interesting.