The best among today's performers are Gold (XAU), Silver (XAG), Bitcoin (BTC), and Euro-Dollar (EUR/USD), according to Jeroen Blokland (@jsblokland). The head of Robeco Asset Management has pointed out that gold has reached its all-time highs, silver rises by 6%, Bitcoin is above $10,000 while EUR/USD has broken out of 1.1700.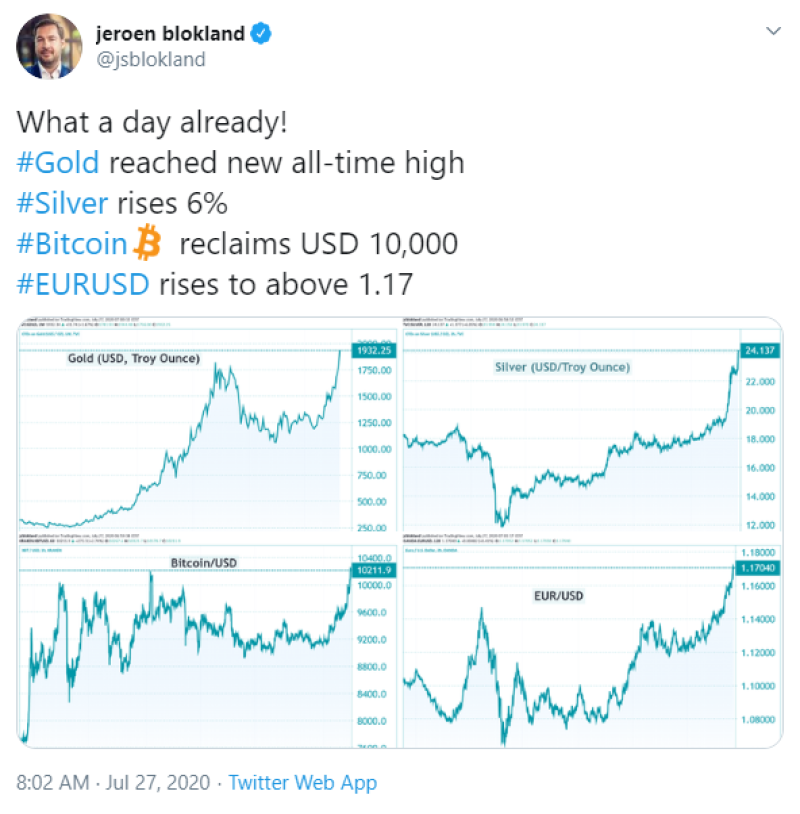 Image Source: Twitter @jsblokland
The Current Situation with Gold
XAU/USD has reached its ATH in July 2020 after being in a very diffucult situation in March of 2020. Investors consider gold be a kind of a shelter. That's the main reason why XAU/USD resumed its uptrend later in March and has reached its peaks now. This asset is in high demand now as the risks of the global recession are still relatively high.
The Current Situation with Silver
XAG/USD is not considered to be the best asset to buy during the crisis. However, Silver currently performs well. The asset broke out its $20,00 psychological level last week and continues its uptrend movement. Silver also had hard times in March 2020, but XAG/USD has managed to turn the tide in its favor and start a period of growth, which continues In July of 2020.
The Current Situation with Bitcoin
Bitcoin have already attempted to break out of its $10,000 psychological level many times, but failed to fix above this point. Some investors think of BTC/USD as "digital gold" and it is not surprising the currency pair has an uptrend in the current situation. After going through challenging time in March of 2020, Bitcoin resumed the uptrend supported by the fears of the global recession and the unprecedented ultra-easy FED's policy. The fears of the global recession stimulate Bitcoin to move up.
The Current Situation with EUR/USD
European currency gains its strength back after the better than expected Eurozone's PMI issued on Friday. German and French indexes were almost all in the green area except for French Manufacturing PMI, which despite being below expectations, remained above 50.