The cryptocurrency market is on the rise, with many top-10 cryptocurrencies growing by more than 10%. This is great news for the cryptocurrency industry, as well as for the cryptocurrency market.
This movement also aroused great interest in the community, whose representatives began to put forward their theories. The main question is, what will be the reasons for the next Bitcoin rally?
The Founder & CEO of BalletCrypto believes that the next rally will be driven by the same reasons as it was in 2017.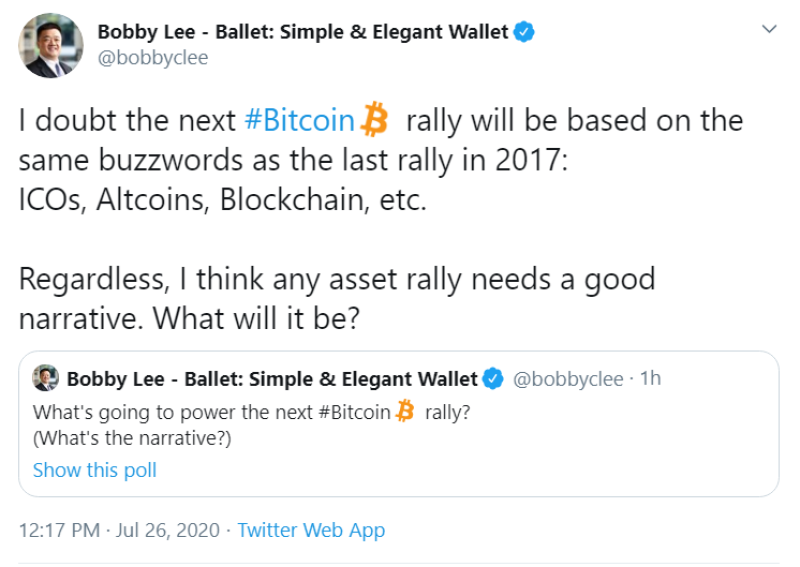 Image source: Twitter @bobbyclee
Booby also noted that gold has recently been on a silent rally, reaching $1,900 mark, which is very close to the historical high of $1,920 since 2011. Once it crosses this, it will check at the extremely important psychological price point of $ 2,000. After that, it can easily go up to $3,000 or even $5,000 per troy ounce.
Image source: Twitter @bobbyclee
Bitcoin is often compared to digital gold. This is why Bobby Lee takes into account the correlation between physical and digital gold.
The price of the first blockchain in the world, according to some experts, is $100,000. Recently, the same expert claimed that BTC / USD would be adopted by a larger range of shops if the choice stays limited.