The German Government debt market increased slowly on Tuesday, with yields dropping across the eurozone as investors' attention centred on Thursday's meeting of the European Central Bank.
On Thursday, the ECB will increase Euro bond-purchase plan by about 500 billion euros the 750 billion, under Pandemic Emergency Purchase Programme, or the PEPP program.
We are anticipating an increase in asset purchases, Seema Shah, chief strategist at Principal Global Investors in London
Yet an MNI News Article, quoting unidentified ECB sources, said that several ECB representatives would hesitate to apply to the acquisition plan, and would choose to wait for some month.
Core government bond prices fell in the early London session by around two or three basis points. This is somewhat easier, with most yields below 2 basis points.
German 10-year safe bond yields, which rose 5 bps yesterday to a three-week-high of -0,39 per cent, were down at -0,40 per cent DE10YT = RR for about one basis point last time.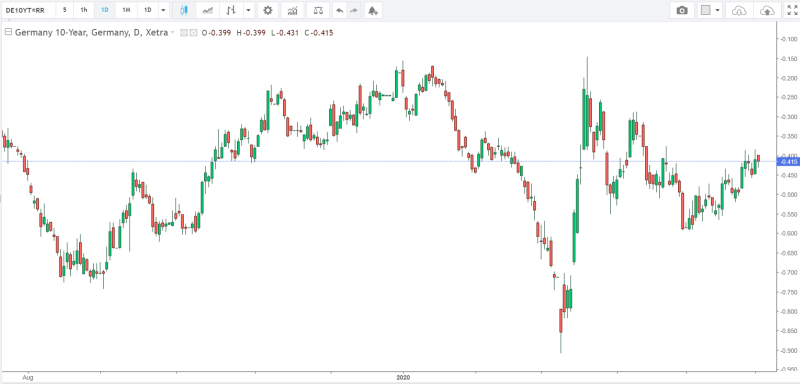 Image source: TradingView DE10YT=RR
Italian government bond yields have changed little from the 10-year rate of return of 1.46 per cent IT10YT = RR over the past ten years.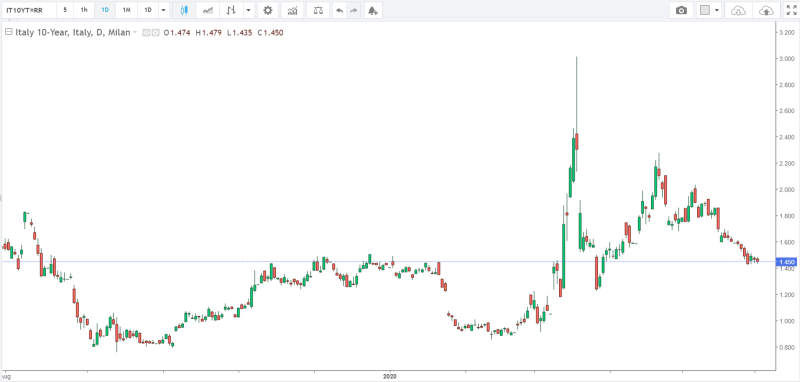 Image source: TradingView IT10YT = RR
Last Wednesday the European Commission announced the EU Coronavirus Recovery Fund and German Minister of Foreign Affairs on Friday found out that there is already a long way to go to complete the project negotiations.
Today the ECB 's emergency asset-buying plan should be disclosed the first time for two months.
Experts expect the purchases to show a preference for Italian and other government bonds.